Tool bag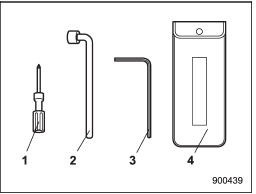 1) Screwdriver
2) Wheel nut wrench
3) Hex-head wrench (only models with moonroof)
4) Tool bag
The screwdriver and wheel nut wrench are stored in the tool bag.
See also:
Fluids
*1: Use one of the indicated types of fluid. *2: The indicated fluid quantity is only a guideline. The necessary quantity for replacement may differ slightly depending on the temperature and othe ...
One Gear Shy
To solve the problem for good, and improve the car markedly, Subaru needs to replace the five-speed manual with a six-speed. So that you know where I'm coming from, I'm not someone who demands six ...
Electronic Brake Force Distribution (EBD) system warning
The brake system warning light also illuminates if a malfunction occurs in the EBD system. In that event, it illuminates together with the ABS warning light. The EBD system may be malfunctioning i ...