Temporary spare tire

When a spare tire is mounted or a wheel rim is replaced without the original pressure sensor/transmitter being transferred, the low tire pressure warning light will illuminate steadily after blinking for approximately one minute. This indicates the tire pressure monitoring system (TPMS) is unable to monitor all four road wheels. Contact your SUBARU dealer as soon as possible for tire and sensor replacement and/or system resetting.

Never use any temporary spare tire other than the original. Using other sizes may result in severe mechanical damage to the drive train of your vehicle.
The temporary spare tire is smaller and lighter than a conventional tire and is designed for emergency use only. Remove the temporary spare tire and reinstall the conventional tire as soon as possible because the spare tire is designed only for temporary use.
Check the inflation pressure of the temporary spare tire periodically to keep the tire ready for use. The correct pressure is 60 psi (420 kPa, 4.2 kg/cm2).
When using the temporary spare tire, note the following.
Х Do not exceed 50 mph (80 km/h).
Х Do not put a tire chain on the temporary spare tire. Because of the smaller tire size, a tire chain will not fit properly.
Х Do not use two or more temporary spare tires at the same time.
Х Do not drive over obstacles. This tire has a smaller diameter, so road clearance is reduced.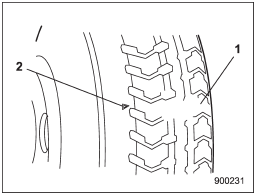 1) Tread wear indicator bar
2) Indicator location mark
Х When the wear indicator appears on the tread, replace the tire.
Х The temporary spare tire must be used only on a rear wheel. If a front wheel tire gets punctured, replace the wheel with a rear wheel and install the temporary spare tire in place of the removed rear wheel.
See also:
Oil pressure warning light
CAUTION Do not operate the engine with the oil pressure warning light on. This may cause serious engine damage. If this light illuminates when the engine is running, it may indicate that the e ...
AM selection
Press the УAMФ button when the radio is on to select AM reception. ...
Legacy
NOTE It may be difficult to replace the bulbs. We recommend that you have the bulbs replaced by your SUBARU dealer if necessary. 1. Open the trunk. 2. Remove the trunk trim lining by removing t ...