Precautions for AWD models with automatic transmission
Your vehicle is equipped with the AWD (All-Wheel Drive) system. In addition, if your vehicle is an AT model, before driving your vehicle with the temporary spare tire, deactivate the AWD capability of the vehicle as follows.
1. Turn the ignition switch to the УLOCKФ position.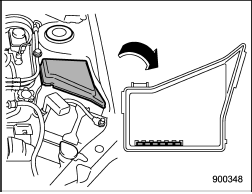 2. Pull any one spare fuse out of the spare fuse holder in the engine compartment.
Spare fuses are attached on the back side of the fuse holder cover. You may pick up any one fuse in the spare fuse holder.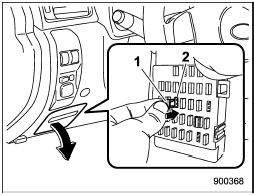 1) Spare fuse
2) FWD connector
3. Put a spare fuse inside the FWD connector located in the cabin and confirm that the All-Wheel Drive warning light УAWDФ illuminates. The All-Wheel-Drive capability of the vehicle has now been deactivated.
NOTE
After reinstalling the conventional tire, remove the spare fuse from the FWD connector in order to reactivate All- Wheel Drive. Make sure to restore the removed spare fuse in the spare fuse holder located in the engine compartment.
See also:
Warning and indicator lights
...
STI
1) Power steering fluid reservoir 2) Clutch fluid reservoir 3) Brake fluid reservoir 4) Fuse box 5) Battery 6) Windshield washer tank 7) Engine oil filler cap 8) Engine coolant reservoir 9) ...
Drinking and driving
WARNING Drinking and then driving is very dangerous. Alcohol in the bloodstream delays your reaction and impairs your perception, judgment and attentiveness. If you drive after drinking Ц even if ...