Precautions for AWD models with automatic transmission
Your vehicle is equipped with the AWD (All-Wheel Drive) system. In addition, if your vehicle is an AT model, before driving your vehicle with the temporary spare tire, deactivate the AWD capability of the vehicle as follows.
1. Turn the ignition switch to the "LOCK" position.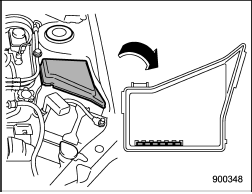 2. Pull any one spare fuse out of the spare fuse holder in the engine compartment.
Spare fuses are attached on the back side of the fuse holder cover. You may pick up any one fuse in the spare fuse holder.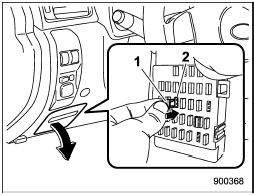 1) Spare fuse
2) FWD connector
3. Put a spare fuse inside the FWD connector located in the cabin and confirm that the All-Wheel Drive warning light "AWD" illuminates. The All-Wheel-Drive capability of the vehicle has now been deactivated.
NOTE
After reinstalling the conventional tire, remove the spare fuse from the FWD connector in order to reactivate All- Wheel Drive. Make sure to restore the removed spare fuse in the spare fuse holder located in the engine compartment.
See also:
Cargo area light
Cargo area light 1) DOOR 2) OFF 3) ON The cargo area light switch has the following positions. DOOR: The light illuminates when the rear gate is opened. The light remains illuminated ...
When "PUSH EJECT" is displayed
Press the eject button to unload the disc. Check the disc for damage or deformation, and also check that the correct disc is inserted. Do not try to unload the disc forcibly. Single CDs (i.e., ...
Control panel
Control panel 1) Temperature control dial 2) Fan speed control dial 3) Airflow control dial 4) Control switch of the defogger and deicer system (Refer to "Defogger and deicer".) 5) Air conditio ...