Precautions for AWD models with automatic transmission
Your vehicle is equipped with the AWD (All-Wheel Drive) system. In addition, if your vehicle is an AT model, before driving your vehicle with the temporary spare tire, deactivate the AWD capability of the vehicle as follows.
1. Turn the ignition switch to the УLOCKФ position.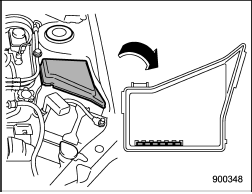 2. Pull any one spare fuse out of the spare fuse holder in the engine compartment.
Spare fuses are attached on the back side of the fuse holder cover. You may pick up any one fuse in the spare fuse holder.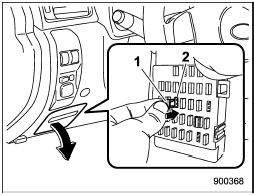 1) Spare fuse
2) FWD connector
3. Put a spare fuse inside the FWD connector located in the cabin and confirm that the All-Wheel Drive warning light УAWDФ illuminates. The All-Wheel-Drive capability of the vehicle has now been deactivated.
NOTE
After reinstalling the conventional tire, remove the spare fuse from the FWD connector in order to reactivate All- Wheel Drive. Make sure to restore the removed spare fuse in the spare fuse holder located in the engine compartment.
See also:
State emission testing (U.S. only)
WARNING Testing of an All-Wheel Drive vehicle must NEVER be performed on a single two-wheel dynamometer. Attempting to do so will result in uncontrolled vehicle movement and may cause an accident ...
Programming other devices
To program other devices such as door locks, home lighting and security systems, contact HomeLinkЃ at www.homelink.com or call 1-800-355-3515. ...
PTY (Program type) group tuning only FM reception)
Press the indicated button to change to the PTY selection mode. At this time, the PTY group that you are currently listening to (type A, B and C audio)/that you selected the last time (type ...