Precautions for AWD models with automatic transmission
Your vehicle is equipped with the AWD (All-Wheel Drive) system. In addition, if your vehicle is an AT model, before driving your vehicle with the temporary spare tire, deactivate the AWD capability of the vehicle as follows.
1. Turn the ignition switch to the "LOCK" position.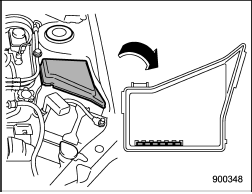 2. Pull any one spare fuse out of the spare fuse holder in the engine compartment.
Spare fuses are attached on the back side of the fuse holder cover. You may pick up any one fuse in the spare fuse holder.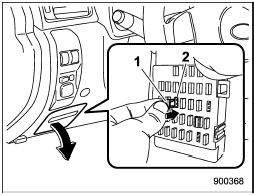 1) Spare fuse
2) FWD connector
3. Put a spare fuse inside the FWD connector located in the cabin and confirm that the All-Wheel Drive warning light "AWD" illuminates. The All-Wheel-Drive capability of the vehicle has now been deactivated.
NOTE
After reinstalling the conventional tire, remove the spare fuse from the FWD connector in order to reactivate All- Wheel Drive. Make sure to restore the removed spare fuse in the spare fuse holder located in the engine compartment.
See also:
Play file
NOTE - Copyright protected MP3/WMA/AAC files will not be played by the system. The player will automatically skip to the next file (track). - WMA9 Lossless, WMA9 Professional and WMA9 voice ...
Selecting language
To select the language, perform the following procedure. 1. Select the "SEL LANGUAGE"/"SELECT LANGUAGE" menu. 2. Select the desired language by operating the "TUNE/TRACK/CH" dial. ...
Connecting USB storage device / iPod®
• If the data stored in an iPod® is deleted while it is connected to the in-vehicle system, the data cannot be recovered. • Do not store an iPod® in the vehicle. If an iPod® is left in the vehicl ...