Precautions for AWD models with automatic transmission
Your vehicle is equipped with the AWD (All-Wheel Drive) system. In addition, if your vehicle is an AT model, before driving your vehicle with the temporary spare tire, deactivate the AWD capability of the vehicle as follows.
1. Turn the ignition switch to the УLOCKФ position.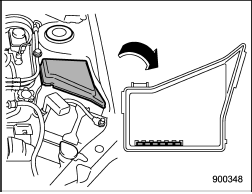 2. Pull any one spare fuse out of the spare fuse holder in the engine compartment.
Spare fuses are attached on the back side of the fuse holder cover. You may pick up any one fuse in the spare fuse holder.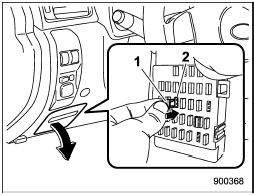 1) Spare fuse
2) FWD connector
3. Put a spare fuse inside the FWD connector located in the cabin and confirm that the All-Wheel Drive warning light УAWDФ illuminates. The All-Wheel-Drive capability of the vehicle has now been deactivated.
NOTE
After reinstalling the conventional tire, remove the spare fuse from the FWD connector in order to reactivate All- Wheel Drive. Make sure to restore the removed spare fuse in the spare fuse holder located in the engine compartment.
See also:
Braking when a tire is punctured
Do not depress the brake pedal suddenly when a tire is punctured. This could cause a loss of control of the vehicle. Keep driving straight ahead while gradually reducing speed. Then slowly pull off th ...
Electronic compass display
By briefly pressing the compass button, the compass display is toggled on or off. When the compass display is on, an illuminated compass reading will appear on the mirror. Using the electronic co ...
Shift lock release using the shift lock release button
Perform the following procedure to release the shift lock. 1. Apply the parking brake and stop the engine. 2. Remove the shift lock cover using a flat-head screwdriver. The shift lock release butt ...