Precautions for AWD models with automatic transmission
Your vehicle is equipped with the AWD (All-Wheel Drive) system. In addition, if your vehicle is an AT model, before driving your vehicle with the temporary spare tire, deactivate the AWD capability of the vehicle as follows.
1. Turn the ignition switch to the УLOCKФ position.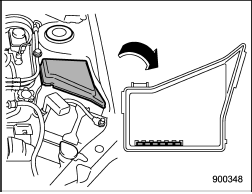 2. Pull any one spare fuse out of the spare fuse holder in the engine compartment.
Spare fuses are attached on the back side of the fuse holder cover. You may pick up any one fuse in the spare fuse holder.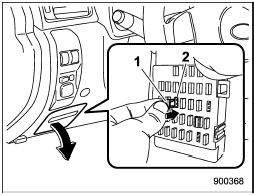 1) Spare fuse
2) FWD connector
3. Put a spare fuse inside the FWD connector located in the cabin and confirm that the All-Wheel Drive warning light УAWDФ illuminates. The All-Wheel-Drive capability of the vehicle has now been deactivated.
NOTE
After reinstalling the conventional tire, remove the spare fuse from the FWD connector in order to reactivate All- Wheel Drive. Make sure to restore the removed spare fuse in the spare fuse holder located in the engine compartment.
See also:
Tire Identification Number (TIN)
Tire Identification Number (TIN) is marked on the intended outboard sidewall. The TIN is composed of four groups. Here is a brief review of the TIN with a breakdown of its individual element ...
Scan
Type A and B audio Type C audio The scan mode lets you listen to the first 10 seconds of each track/file in succession. Press the УSCANФ button to start scanning upward beginning with the track/ fi ...
To arm the system using power door locking switches
1. Close all windows. 2. Remove the key from the ignition switch. 3. Open the doors and get out of the vehicle. 4. Make sure that the engine hood is locked. 5. Close the doors (and the rear gate o ...