Using the paddle shift (if equipped)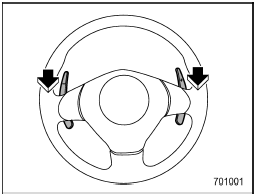 Pull the У+Ф of the paddle shift to upshift one level. Pull the У−Ф of the paddle shift to downshift one level.
To deselect the manual mode, return the select lever to the УDФ position from the manual gate.
While driving, if you change the gear by paddle shifting, the gear position indicator illuminates and shows the current gear condition. At this time, the normal mode temporarily changes to the manual mode, and after driving for a short period of time, the transmission mode returns to the normal mode. (The timing of the gear change and return is different, depending on the driving condition when paddle shifting.) Also, if you subsequently ease off the accelerator pedal and then accelerate again, the transmission will automatically switch back from manual mode to normal mode.

The paddle shift lever could be accidentally changed if accessories or other materials are placed on the paddle shift. Do not place accessories and other materials on the paddle shift lever.
See also:
Two separate circuits
Your vehicle has a dual circuit brake system. Each circuit works diagonally across the vehicle. If one circuit of the brake system should fail, the other half of the system still works. If one cir ...
Heating and defrosting
To direct warm air toward the floor and the windshield: 1. Set the air inlet selection button to the OFF position. 2. Press the УФ button. 3. Set the temperature control dial to the most comfortabl ...
Driving when tired or sleepy
When you are tired or sleepy, your reaction time will be delayed and your perception, judgment and attentiveness will be impaired. If you drive when tired or sleepy, your, your passengersТ and other ...