Starting your vehicle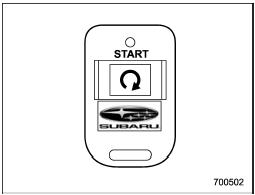 The remote engine start system is activated by pressing the "

" button twice within 3 seconds on your remote engine start transmitter. The system will check certain pre-conditions before starting, and if all safety parameters are correct, the engine will start within 5 seconds. While the vehicle is operating via remote engine start, the vehicle's power window features will be disabled. Also, the system has a timer and will shut down after 15 minutes if you do not operate the vehicle. Press and hold the "

" button for 2 seconds again to turn the vehicle off. If the vehicle's starter cranks but does not start or starts and stalls, the remote engine start system will power off then attempt to start the vehicle an additional four times. If the vehicle fails to start after the additional attempts, the remote engine start system will abort and return to a non-activated state.
See also:
Turn signal indicator lights
These lights show the operation of the turn signal or lane change signal. If the indicator lights do not blink or blink rapidly, the turn signal bulb may be burned out. Replace the bulb as ...
Driving in foreign countries
When planning to use your vehicle in another country: ● Confirm the availability of the correct fuel. Refer to "Fuel requirements" F7-2. ● Comply with all regulations and requirements ...
All season tires
All season tires are designed to provide an adequate measure of traction, handling and braking performance in year-round driving including snowy and icy road conditions. However all season tires do no ...