Programming rolling-code-protected garage door openers in the U.S.A.
If your garage door opener has a rolling code feature, program the HomeLink® Wireless Control System for it by following steps 1 through 5 in "Garage door opener programming in the U.S.A.". Then continue with the following steps.
NOTE
The assistance of a second person may make the programming quicker and easier.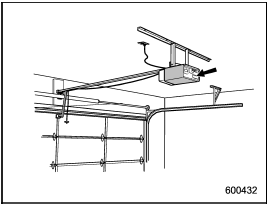 1. Locate the training button on the garage door opener motor head unit.
The exact location and color of the button may vary by brand of garage door opener.
If it is difficult to locate the training button, refer to your garage door opener's instruction manual.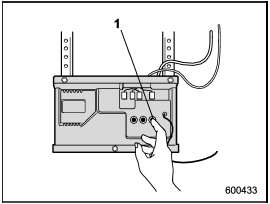 1) Training button
2. Press the training button on the garage door opener motor head unit (which activates the "training light" on the unit). Proceed to step 3 within 30 seconds.
3. Inside the vehicle, firmly press, hold for 2 seconds and release the HomeLink® button that was programmed in the previous section. Press and release the button a second time to complete the programming procedure.
NOTE
Some garage door openers may require you to do the above press-holdrelease sequence a third time to complete the programming.
4. The garage door opener should now recognize the HomeLink® Wireless Control System and your garage door opener should activate when the HomeLink® button is pressed.
See also:
Operation during cold weather
Carry some emergency equipment, such as a window scraper, a bag of sand, flares, a small shovel and jumper cables. Check the battery and cables. Cold temperatures reduce battery capacity. The ba ...
Anti-entrapment function
When the moonroof senses a substantial enough object trapped between its glass and the vehicle's roof during closure, it automatically moves back by 6 in (15 cm) from that point and then stops ...
Front seatbelt pretensioners
The driver's and front passenger's seatbelts have a seatbelt pretensioner. The seatbelt pretensioners are designed to be activated in the event of an accident involving a moderate to severe fron ...