Programming rolling-code-protected garage door openers in the U.S.A.
If your garage door opener has a rolling code feature, program the HomeLink® Wireless Control System for it by following steps 1 through 5 in "Garage door opener programming in the U.S.A.". Then continue with the following steps.
NOTE
The assistance of a second person may make the programming quicker and easier.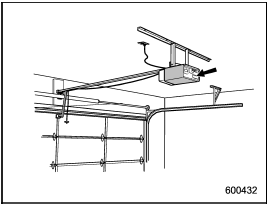 1. Locate the training button on the garage door opener motor head unit.
The exact location and color of the button may vary by brand of garage door opener.
If it is difficult to locate the training button, refer to your garage door opener's instruction manual.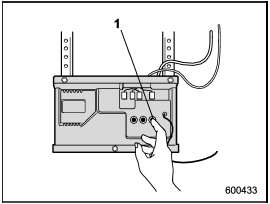 1) Training button
2. Press the training button on the garage door opener motor head unit (which activates the "training light" on the unit). Proceed to step 3 within 30 seconds.
3. Inside the vehicle, firmly press, hold for 2 seconds and release the HomeLink® button that was programmed in the previous section. Press and release the button a second time to complete the programming procedure.
NOTE
Some garage door openers may require you to do the above press-holdrelease sequence a third time to complete the programming.
4. The garage door opener should now recognize the HomeLink® Wireless Control System and your garage door opener should activate when the HomeLink® button is pressed.
See also:
Use of engine braking
Remember to make use of engine braking in addition to foot braking. When descending a grade, if only the foot brake is used, the brakes may start working improperly because of brake fluid overheating, ...
SRS side airbag and SRS curtain airbag
The SRS side airbag is stored in the door side of each front seat seatback, which bears an "SRS AIRBAG" label. In a moderate to severe side impact collision, the SRS side airbag on the impacted s ...
Upshift/downshift indicator (AT and CVT models)
When the manual mode is selected, the gear position indicator (which shows the current gear selection) and the upshift/ downshift indicator light up. Refer to "Automatic transmission/Continuously ...