Programming rolling-code-protected garage door openers in the U.S.A.
If your garage door opener has a rolling code feature, program the HomeLink® Wireless Control System for it by following steps 1 through 5 in "Garage door opener programming in the U.S.A.". Then continue with the following steps.
NOTE
The assistance of a second person may make the programming quicker and easier.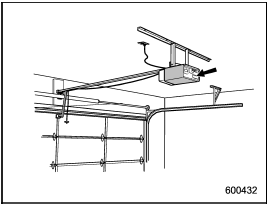 1. Locate the training button on the garage door opener motor head unit.
The exact location and color of the button may vary by brand of garage door opener.
If it is difficult to locate the training button, refer to your garage door opener's instruction manual.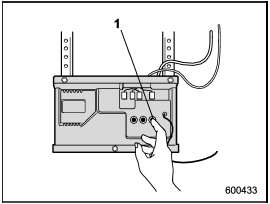 1) Training button
2. Press the training button on the garage door opener motor head unit (which activates the "training light" on the unit). Proceed to step 3 within 30 seconds.
3. Inside the vehicle, firmly press, hold for 2 seconds and release the HomeLink® button that was programmed in the previous section. Press and release the button a second time to complete the programming procedure.
NOTE
Some garage door openers may require you to do the above press-holdrelease sequence a third time to complete the programming.
4. The garage door opener should now recognize the HomeLink® Wireless Control System and your garage door opener should activate when the HomeLink® button is pressed.
See also:
Engine coolant
NOTE Each quantity indicated here is only a guideline. The necessary quantity for replacement may differ slightly depending on the temperature and other factors. For the checking, adding and ...
Maximum allowable speeds
The following table shows the maximum speeds that are possible with each different gear. The tachometer's needle will enter the red area if these speeds are exceeded. With the exception of cases wher ...
Refrigerant for your climate control system
Your air conditioner uses ozone friendly refrigerant HFC134a. Therefore, the method of adding, changing or checking the refrigerant is different from the method for CFC12 (freon). Consult your SUB ...