Photosensors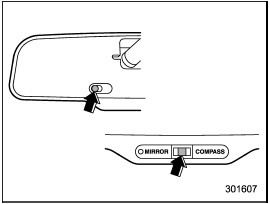 Photosensors
The mirror has a photosensor attached on both the front and back sides. If the glare from the headlights of vehicles behind you strikes the mirror, these sensors detect it and make the reflection surface of the mirror dimmer to help prevent you from being blinded. For this reason, use care not to cover the sensors with stickers, or other similar items. Periodically wipe the sensors clean using a piece of dry soft cotton cloth or an applicator.
See also:
AT OIL TEMP warning light (AT models)
If this light illuminates when the engine is running, it may indicate that the automatic transmission fluid temperature is too hot. If the light illuminates while driving, immediately stop the vehi ...
Braking when a tire is punctured
Do not depress the brake pedal suddenly when a tire is punctured. This could cause a loss of control of the vehicle. Keep driving straight ahead while gradually reducing speed. Then slowly pul ...
To decrease the speed (by the УRES/SETФ switch)
Press the УRES/SETФ switch to the УSETФ side and hold it until the vehicle reaches the desired speed. Then, release the switch. The vehicle speed at that moment will be memorized and treated as ...