Auto-dimming mirror/compass (if equipped)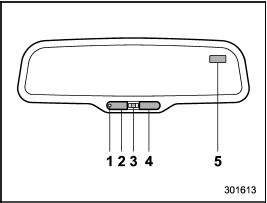 Auto-dimming mirror/compass (if equipped)
1) Auto dimming indicator
2) Left (mirror) button
3) Photosensor
4) Right (compass) button
5) Compass display
The auto-dimming mirror has an anti-glare feature which automatically reduces glare coming from headlights of vehicles behind you. It also contains a built-in compass.
• By pressing and releasing the left button, the automatic dimming function is toggled on or off. When the automatic dimming function is on, the auto dimming indicator light (green) located on the left button will illuminate.
• By pressing and releasing the right button, the compass display is toggled on or off. When the compass is on, an illuminated compass reading will appear in the upper right corner of the mirror.
Even with the mirror in anti-glare mode, the mirror surface turns bright if the transmission is shifted into reverse. This is to ensure good rearward visibility during reversing.
See also:
Making a phone call from speed dial
It is possible to select a phone number from speed dial registered with the invehicle equipment to make a phone call. Preset buttons 1. Press the preset button in which the desired number is registe ...
Synthetic leather upholstery
The synthetic leather material used on the SUBARU may be cleaned using mild soap or detergent and water, after first vacuuming or brushing away loose dirt. Allow the soap to soak in for a few minu ...
Winter driving
Winter driving ...