Auto-dimming mirror/compass (if equipped)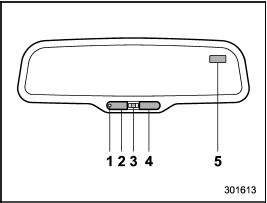 Auto-dimming mirror/compass (if equipped)
1) Auto dimming indicator
2) Left (mirror) button
3) Photosensor
4) Right (compass) button
5) Compass display
The auto-dimming mirror has an anti-glare feature which automatically reduces glare coming from headlights of vehicles behind you. It also contains a built-in compass.
• By pressing and releasing the left button, the automatic dimming function is toggled on or off. When the automatic dimming function is on, the auto dimming indicator light (green) located on the left button will illuminate.
• By pressing and releasing the right button, the compass display is toggled on or off. When the compass is on, an illuminated compass reading will appear in the upper right corner of the mirror.
Even with the mirror in anti-glare mode, the mirror surface turns bright if the transmission is shifted into reverse. This is to ensure good rearward visibility during reversing.
See also:
Before driving your vehicle
Before entering the vehicle, remove any snow or ice from your shoes because that could make the pedals slippery and dangerous. While warming up the vehicle before driving, check that the acce ...
Deleting the speed dial
1. Select the "DEL SPD DIAL"/"DELETE SPEED DIAL" menu. 2. Press the preset button (from to ) in which you want to delete the speed dial. 3. Select the "CONFIRM" menu. Then "DELETED" is d ...
Windshield wipers
Windshield wipers OFF: Off : Intermittent LO: Low speed HI: High speed To turn the wipers on, push the wiper control lever down. To turn the wipers off, return the lever to the "OFF" ...