Compass zone adjustment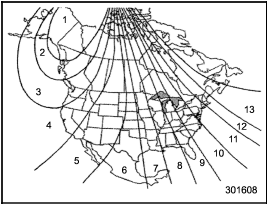 Compass calibration zones
1. The zone setting is factory preset to Zone 8. Refer to the "Compass calibration zones" map shown above to verify that the compass zone setting is correct for your geographical location.
2. Press and hold the right button for 3 seconds then release, and the word "ZONE" will briefly appear and then the zone number will be displayed.
3. Press the right-hand button repeatedly to cycle the display through all possible zone settings. Stop cycling when the correct zone setting for your location is displayed.
4. Releasing the button for 3 seconds will exit the zone setting mode.
See also:
Intelligent (I) mode
For smooth, efficient performance driving The Intelligent (I) mode provides wellbalanced performance with greater fuel efficiency and smooth driveability without stress. Power delivery is moderate du ...
Wheel replacement
When replacing wheels due, for example, to damage, make sure the replacement wheels match the specifications of the wheels that are fitted as standard equipment. Replacement wheels are available from ...
Maximum load rating
The load rating at the maximum permissible weight load for this tire. For example, "MAX. LOAD 580 kg (1279 LBS) @ 300 kPa (44 PSI) MAX. PRESS." Maximum load rating applies only to the tire, not ...