Compass zone adjustment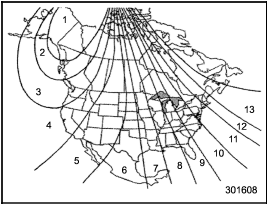 Compass calibration zones
1. The zone setting is factory preset to Zone 8. Refer to the "Compass calibration zones" map shown above to verify that the compass zone setting is correct for your geographical location.
2. Press and hold the right button for 3 seconds then release, and the word "ZONE" will briefly appear and then the zone number will be displayed.
3. Press the right-hand button repeatedly to cycle the display through all possible zone settings. Stop cycling when the correct zone setting for your location is displayed.
4. Releasing the button for 3 seconds will exit the zone setting mode.
See also:
Behavior with key lock-in prevention function operational
With the driver's door open, the doors are automatically kept unlocked even if the front side of the power door locking switch is pressed. ...
Safety warnings
You will find a number of WARNINGs, CAUTIONs and NOTEs in this manual. These safety warnings alert you to potential hazards that could result in injury to you or others. Please read these safety ...
Moonroof – if moonroof cannot be closed
If the moonroof cannot be closed with the moonroof switch, you can close the moonroof manually. 1. Take out the screwdriver from the tool bucket. 2. Open the overhead console. Refer to "Overhead c ...