START
The engine is started in this position. The starter cranks the engine to start it. When the key is released (after the engine has started), the key automatically returns to the "ON" position.

Do not turn the ignition switch to the "START" position while the engine is running.
If your registered key fails to start the engine, pull out the key once (the security indicator light will blink), and then insert the key in the ignition switch and turn it to the "START" position and again try to start the engine.
NOTE
The engine may not start in the following cases: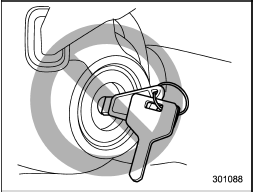 • The key grip is touching another key or a metallic key holder.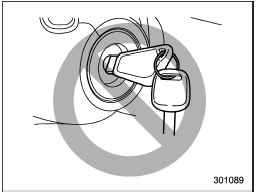 • The key is near another key that contains an immobilizer transponder.
• The key is near or touching another transmitter.
See also:
How to insert a CD(s) (type B)
1. Briefly press the button. If the magazine in the player has an idle position where you can insert a disc, the disc number indicator associated with the idle position will blink. If no i ...
Rear wiper
To turn the rear wiper on, turn the knob on the end of the wiper control lever upward to the "INT" or "ON" position. To turn the wiper off, return the knob on the end of the lever to the "OFF" positi ...
Using a warm water washer
- Keep a good distance of 12 in (30 cm) or more between the washer nozzle and the vehicle. - Do not wash the same area continuously. - If a stain will not come out easily, wash by hand. Some w ...