START
The engine is started in this position. The starter cranks the engine to start it. When the key is released (after the engine has started), the key automatically returns to the "ON" position.

Do not turn the ignition switch to the "START" position while the engine is running.
If your registered key fails to start the engine, pull out the key once (the security indicator light will blink), and then insert the key in the ignition switch and turn it to the "START" position and again try to start the engine.
NOTE
The engine may not start in the following cases: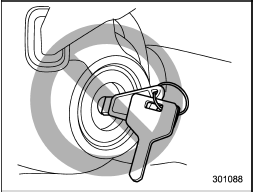 • The key grip is touching another key or a metallic key holder.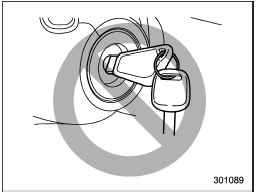 • The key is near another key that contains an immobilizer transponder.
• The key is near or touching another transmitter.
See also:
Refueling in cold weather
To help prevent moisture from forming in the fuel system and the risk of its freezing, use of an antifreeze additive in the fuel tank is recommended during cold weather. Use only additives that ar ...
Battery drainage prevention function
If a door or the rear gate (Outback) is not completely closed, the interior lights will remain illuminated as a result. However, several lights are automatically turned off by the battery drainage ...
Random playback
Type A audio Type B audio To play back a track/file(s) at random, press the "RPT/RDM" button for 0.5 second or longer (type A audio) or press the "RDM" button (type B audio). ● For type ...