Rear center seatbelt on 5-door models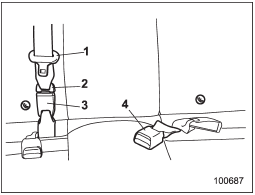 Rear center seatbelt on 5-door models
1) Center seatbelt tongue plate
2) Connector (tongue)
3) Connector (buckle)
4) Center seatbelt buckle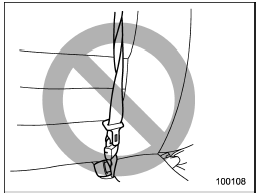 Fastening the seatbelt with the webbing twisted can increase the risk or severity of injury in an accident.
When fastening the belt after it is pulled out from the retractor, especially when inserting the connector's tongue plate into the mating buckle (on right-hand side), always check that the webbing is not twisted.

Be sure to fasten both tongue plates to the respective buckles. If the seatbelt is used only as a shoulder belt (with the connector's tongue plate not fastened to the connector's buckle on the right-hand side), it cannot properly restrain the wearer in position in an accident, possibly resulting in serious injury or death.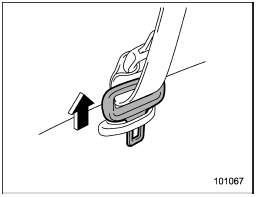 The rear center seatbelt is stowed in the seatbelt holder on the right side of the cargo area.
1. Remove the tongue plate from the belt holder and pull out the seatbelt slowly.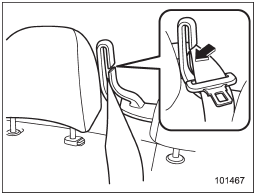 2. After drawing out the seatbelt, pass it through the belt guide as follows: First insert one edge of the belt into the open gap in the belt guide; then slide the rest of the belt in, so that the whole belt fits inside.
3. After confirming that the webbing is not twisted, insert the connector (tongue) attached at the webbing end into the buckle on the right-hand side until a click is heard.
If the belt stops before reaching the buckle, return the belt slightly and pull it out more slowly. If the belt still cannot be unlocked, let the belt retract slightly after giving it a strong pull, then pull it out slowly again.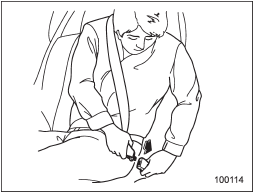 4. Insert the center seatbelt tongue plate into the center seatbelt buckle marked "CENTER" on the left-hand side until it clicks.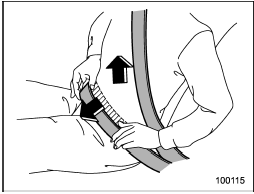 5. To make the lap part tight, pull up on the shoulder belt.
6. Place the lap belt as low as possible on your hips, not on your waist.
See also:
System maintenance
Changing the batteries • Do not let dust, oil or water get on or in the remote engine start transmitter when replacing the battery. • Be careful not to damage the printed circuit board in the re ...
Heater operation
NOTE ● When the "" button or "" button is pressed the air conditioner compressor automatically operates to quickly defog the windshield. However the indicator on the air conditioner button ...
Tires
*1: This torque is equivalent to applying approximately 88 to 110 lbf (40 to 50 kgf) at the end of the wheel nut wrench. If you have tightened the wheel nuts by yourself, have the tightening tor ...