Rear window wiper blade rubber (Outback)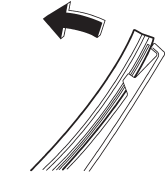 1. Pull out the end of the blade rubber assembly to unlock it from the plastic support.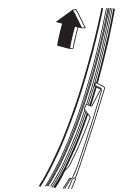 2. Pull the blade rubber assembly out of the plastic support.
1) Metal spines
3. If the new blade rubber is not provided with two metal spines, remove the metal spines from the old blade rubber and install them in the new blade rubber.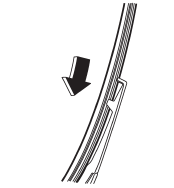 4. Align the claws of the plastic support with the grooves in the blade rubber assembly, then slide the blade rubber assembly into place.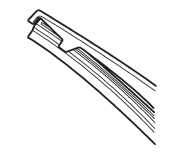 Securely retain both ends of the rubber with the stoppers on the plastic support ends. If the rubber is not retained properly, the wiper may scratch the rear window glass.
5. Install the wiper blade assembly to the wiper arm. Make sure that it locks in place.
6. Hold the wiper arm by hand and slowly lower it in position.
See also:
Turn signal lever
To activate the right turn signal, push the turn signal lever up. To activate the left turn signal, push the turn signal lever down. When the turn is finished, the lever will return automatically. I ...
Electric power steering for improved fuel economy
In order to improve both steering feel and fuel economy, a new rack-and-pinion steering system with electric power assistance has been adopted. The system is mounted on the front cradle frame at f ...
ENGINES
This 1,998 cc diesel is based on the Subaru 'Boxer Diesel' introduced in March 2008 - the world's first horizontally-opposed diesel engine for volume-produced passenger cars. It produces a maximum ...