Rear seatbelts (except rear center seatbelt on 5-door models)
1. Sit well back in the seat.
2. Pick up the tongue plate and pull the belt out slowly. Do not let it get twisted. If the belt stops before reaching the buckle, return the belt slightly and pull it out more slowly. If the belt still cannot be unlocked, let the belt retract slightly after giving a strong pull on it, then pull it out slowly again.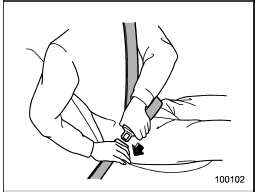 3. Insert the tongue plate into the buckle until you hear a click.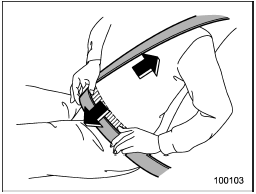 4. To make the lap part tight, pull up on the shoulder belt.
5. Place the lap belt as low as possible on your hips, not on your waist.
See also:
Operation
If the driver and/or front passenger have/ has not yet fastened the seatbelt(s) when the ignition switch is turned to the "ON" position, the seatbelt warning light(s) will flash for 6 seconds, ...
Before driving your vehicle
Before entering the vehicle, remove any snow or ice from your shoes because that could make the pedals slippery and driving dangerous. While warming up the vehicle before driving, check that the ac ...
Synthetic oil
You should use synthetic engine oil that meets the same requirements given for conventional engine oil. When using synthetic oil, you must use oil of the same classification, viscosity and grade shown ...