Front seatbelts
1. Adjust the seat position according to the following procedure.
Driver's seat: Adjust the seatback to the upright position. Move the seat as far from the steering wheel as practical while still maintaining full vehicle control.
Front passenger's seat: Adjust the seatback to the upright position. Move the seat as far back as possible.
2. Sit well back in the seat.
3. Pick up the tongue plate and pull the belt out slowly. Do not let it get twisted. If the belt stops before reaching the buckle, return the belt slightly and pull it out more slowly. If the belt still cannot be unlocked, let the belt retract slightly after giving it a strong pull, then pull it out slowly again.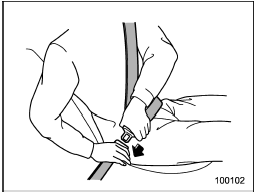 4. Insert the tongue plate into the buckle until you hear a click.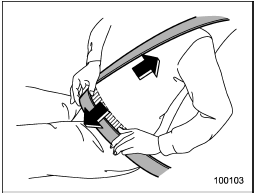 5. To make the lap part tight, pull up on the shoulder belt.
6. Place the lap belt as low as possible on your hips, not on your waist.
See also:
Vehicle finder function
Use this function to find your vehicle parked among many vehicles in a large parking lot. Provided you are within 30 feet (10 meters) of the vehicle, pressing the "" button three times in a 5-seco ...
Expectant mothers
Expectant mothers also need to use the seatbelts. They should consult their doctor for specific recommendations. The lap belt should be worn securely and as low as possible over the hips, not ov ...
Temporary release
When the driver stops the vehicle and pulls the parking brake lever after manually setting the initial LSD torque, the LSD torque is temporarily minimized. However the indicator on the combination met ...