Checking the brake pedal reserve distance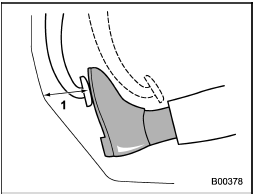 1) More than 2.56 in (65 mm)
Depress the pedal with a force of approximately 66 lbf (294 N, 30 kgf) and measure the distance between the upper surface of the pedal pad and the floor.
When the measurement is smaller than the specification, or when the pedal does not operate smoothly, contact with your SUBARU dealer.
See also:
Legacy
NOTE It may be difficult to replace the bulbs. We recommend that you have the bulbs replaced by your SUBARU dealer if necessary. 1. Open the trunk. 2. Remove the trunk trim lining by removing t ...
Rear window wiper and washer switch
Rear window wiper and washer switch Washer (accompanied by wiper operation) ON: Continuous INT: Intermittent OFF: Off Washer ...
Keys
1) Master key (Black) 2) Submaster key (Black) 3) Valet key (Gray) 4) Key number plate 5) Security ID plate Three types of keys are provided for your vehicle: Master key, submaster key and val ...