Checking the brake pedal reserve distance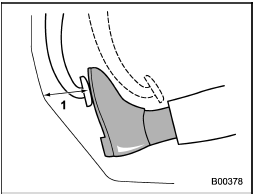 1) More than 2.56 in (65 mm)
Depress the pedal with a force of approximately 66 lbf (294 N, 30 kgf) and measure the distance between the upper surface of the pedal pad and the floor.
When the measurement is smaller than the specification, or when the pedal does not operate smoothly, contact with your SUBARU dealer.
See also:
Electrical system
AT: Automatic transmission MT: Manual transmission ...
Front seatbelt pretensioners
The driver's and front passenger's seatbelts have a seatbelt pretensioner. The seatbelt pretensioners are designed to be activated in the event of an accident involving a moderate to severe fron ...
Checking the oil level
Non-turbo models 1) Yellow handle Turbo models 1) Yellow handle Check the oil level monthly. 1. Park the vehicle on a level surface and stop the engine. 2. Pull out the level gauge, wipe it ...