Road surface freeze warning indication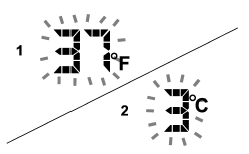 1) U.S.-spec. models
2) Except U.S.-spec. models
When the outside temperature drops to 378F (38C) or lower, the temperature indication flashes to show that the road surface may be frozen.
If the outside temperature drops to 378F (38C) or lower while the display is giving an indication other than the outside temperature, the display switches to the outside temperature indication and flashes for 5 seconds before returning to its original indication.
If the display is already indicating an outside temperature of 378F (38C) or lower when the ignition switch is turned to the "ON" position, the indication does not flash.
NOTE
The outside temperature indication may differ from the actual outside temperature. The road surface freeze warning indication should be treated only as a guide. Be sure to check the condition of the road surface before driving.
See also:
Driving on snowy and icy roads
To prevent skidding and slipping, avoid sudden braking, abrupt acceleration, highspeed driving, and sharp turning when driving on snowy or icy roads. Always maintain ample distance between your vehic ...
Seatbelt warning light and chime
NOTE If your seatbelt warning device does not operate as described in the following, it may be out of order. Have the device inspected and, if necessary, repaired by the nearest SUBARU dealer. Y ...
Non-turbo models
...