Road surface freeze warning indication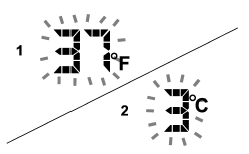 1) U.S.-spec. models
2) Except U.S.-spec. models
When the outside temperature drops to 378F (38C) or lower, the temperature indication flashes to show that the road surface may be frozen.
If the outside temperature drops to 378F (38C) or lower while the display is giving an indication other than the outside temperature, the display switches to the outside temperature indication and flashes for 5 seconds before returning to its original indication.
If the display is already indicating an outside temperature of 378F (38C) or lower when the ignition switch is turned to the УONФ position, the indication does not flash.
NOTE
The outside temperature indication may differ from the actual outside temperature. The road surface freeze warning indication should be treated only as a guide. Be sure to check the condition of the road surface before driving.
See also:
Speedometer
The speedometer shows the vehicle speed. ...
Checking the fluid level
Check the fluid level on the outside of the reservoir. If the level is below УMINФ level mark, add the recommended clutch fluid to УMAXФ level mark. Use only clutch fluid from a sealed container. ...
Cleaning the interior
Use a soft, damp cloth to clean the climate control panel, audio equipment, instrument panel, center console, combination meter panel, and switches. (Do not use organic solvents.) ...