Connecting a trailer
1. Remove the receiver cover from the hitch receiver tube. Then insert the ball mount into the hitch receiver tube.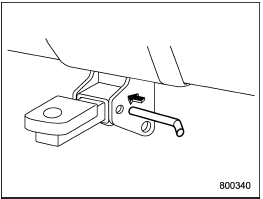 2. Insert the hitch pin into the hole on the hitch receiver tube so that the pin passes through the ball mount.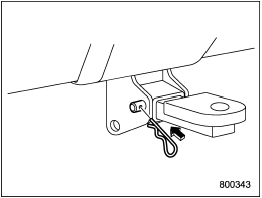 3. Insert the safety pin securely into the hitch pin.
4. Pull the ball mount to make sure it does not come off the hitch receiver.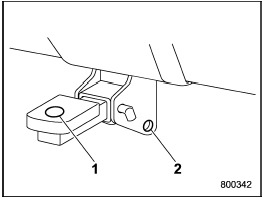 1) Hitch ball installation point
2) Hooks for safety chains
5. Use only a hitch ball that is appropriate for the ball mount and your trailer. The hitch ball must be securely installed on the ball mount.
6. Connect your trailer to the hitch ball.
7. Connect the trailer and the hitch with safety chains that will hold the trailer's maximum gross weight. The chains should cross under the trailer tongue to prevent the tongue from dropping onto the ground in case it should disconnect from the hitch ball. Allow sufficient slack in the chains taking tight-turn situations into account; however, be careful not to let them drag on the ground.

Do not connect safety chains to part of the vehicle other than the safety chain hooks.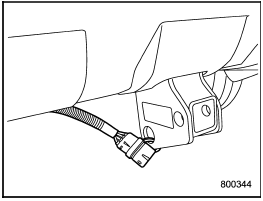 Hitch harness connector
8. Connect the hitch wire harness's black four-pin wire connector to the towing trailer's wire harness 9. Confirm proper function of the hitch wire harness by individually activating the brake, stop, and turn signal lights on the trailer.
NOTE
Always disconnect the trailer wire harness before launching or retrieving a watercraft.
See also:
Seat fabric
Remove loose dirt, dust or debris with a vacuum cleaner. If the dirt is caked on the fabric or hard to remove with a vacuum cleaner, use a soft brush then vacuum it. Wipe the fabric surface with a ...
Load and Speed Rating Descriptions
The load and speed rating descriptions will appear following the size designation. They provide two important facts about the tire. First, the number designation is its load index. Second, ...
Rear ashtray (STI – if equipped)
Rear ashtray (STI – if equipped) The rear ashtray is located on the upper side of the back of the center console. To open the ashtray, pull the upper edge of the lid. Fully close the lid after using ...