Using a flat-bed truck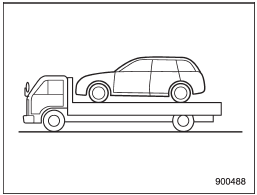 This is the best way to transport your vehicle. Use the following procedures to ensure safe transportation.
1. Shift the select lever into the "P" position for AT models. Shift the shift lever into the "1st" position for MT models.
2. Pull up the parking brake lever firmly.
3. Secure the vehicle onto the carrier properly with safety chains. Each safety chain should be equally tightened and care must be taken not to pull the chains so tightly that the suspension bottoms out.

If your vehicle has a front underspoiler and rear underspoiler (both optional), be careful not to scrape them when placing the vehicle on the carrier and when removing the vehicle from the carrier.
See also:
Flat tires
If you have a flat tire while driving, never brake suddenly; keep driving straight ahead while gradually reducing speed. Then slowly pull off the road to a safe place. ...
LOCK
The key can only be inserted or removed in this position. The ignition switch will lock the steering wheel when you remove the key. If turning the key is difficult, turn the steering wheel sl ...
Low beam light bulbs
1. Pull off the fender lining. For details, refer to "Pulling off the fender lining" F11- 7. 2. Remove the bulb cover, by turning it counterclockwise. 3. Disconnect the electrical connector. ...