Bi-level heating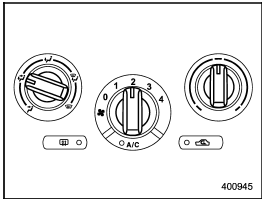 Bi-level heating
This setting allows you to direct air of different temperatures from the instrument panel and foot outlets. The air from the foot outlets is slightly warmer than from the instrument panel outlets.
1. Set the air inlet selection button to the OFF position.
2. Set the airflow control dial to the "

" position.
3. Set the temperature control dial to the desired temperature level.
4. Set the fan speed control dial to the desired speed.
Setting the temperature control dial fully turned to the red area or blue area decreases the temperature difference between the air from the instrument panel outlets and the air from the foot outlets.
See also:
Compass calibration
1. For optimum calibration, switch off all nonessential electrical accessories (rear window defogger, heater/air conditioning system, spotlight, etc.) and ensure all doors are shut. 2. Drive ...
Trailer towing
Your vehicle is designed and intended to be used primarily as a passenger-carrying vehicle. Towing a trailer puts additional loads on your vehicle's engine, drivetrain, brakes, tires and suspe ...
2.0-L DOHC engines on the 2.0X and 2.0XS
Fuel economy has been improved with the redesigned DOHC cylinder head, as well as through optimization of the compression ratio and reduction of the volume of the combustion chamber. Low-end and ...