Temperature gauge (models with type A combination meter)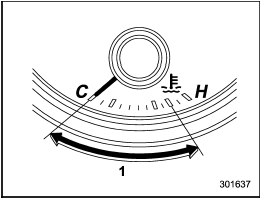 1) Normal operating range
The temperature gauge shows engine coolant temperature when the ignition switch is in the "ON" position.
The coolant temperature will vary in accordance with the outside temperature and driving conditions.
We recommend that you drive moderately until the pointer of the temperature gauge reaches near the middle of the range.
Engine operation is optimum with the engine coolant at this temperature range and high revving operation when the engine is not warmed up enough should be avoided.

If the pointer exceeds the normal operating range, safely stop the vehicle as soon as possible.
Refer to "Engine overheating".
See also:
Cooling and dehumidifying in high humidity and low temperature weather condition
Under certain weather conditions (high relative humidity, low temperatures, etc.) a small amount of water vapor emission from the air outlets may be noticed. This condition is normal and does not ...
Light control switch
The light control switch only operates when the key is inserted into the ignition switch. Regardless of the position of the light control switch, the illuminated lights are turned off when the ke ...
Windshield wiper blade assembly
1. Raise the wiper arm off the windshield. 1) Open the cover 2) Pull down the wiper blade 2. Remove the wiper blade assembly by opening the cover and pulling it down in the direction shown in t ...