Temperature gauge (models with type A combination meter)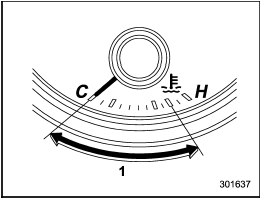 1) Normal operating range
The temperature gauge shows engine coolant temperature when the ignition switch is in the "ON" position.
The coolant temperature will vary in accordance with the outside temperature and driving conditions.
We recommend that you drive moderately until the pointer of the temperature gauge reaches near the middle of the range.
Engine operation is optimum with the engine coolant at this temperature range and high revving operation when the engine is not warmed up enough should be avoided.

If the pointer exceeds the normal operating range, safely stop the vehicle as soon as possible.
Refer to "Engine overheating".
See also:
Center console box (front)
If you remove the divider plate from the dual cup holders, you can use the center console box as a storage space. To use as storage space: Pull out the divider plate of the dual cup holder. T ...
When "CHECK DISC" is displayed
Press the eject button to unload the discs. Check that the disc is not damaged or scratched, and also check that the disc is inserted correctly. This message may appear when using some CD-RW discs. ...
Driving tips
• On a road surface where there is a risk of wheelspin (for example, a snow- or gravel-covered road), you can pull away from a standstill (safely and easily) by first selecting the 2nd gear of the man ...