Adjusting the front seat shoulder belt anchor height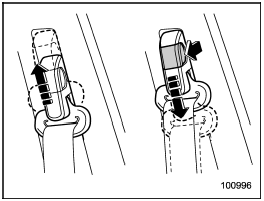 Adjusting the front seat shoulder belt anchor height
The shoulder belt anchor height should be adjusted to the position best suited for the driver/front passenger. Always adjust the anchor height so that the shoulder belt passes over the middle of the shoulder without touching the neck.
To raise:
Slide the anchor up.
To lower:
Pull the release knob and slide the anchor down.
Pull down on the anchor to make sure that it is locked in place.

When wearing the seatbelts, make sure the shoulder portion of the webbing does not pass over your neck. If it does, adjust the seatbelt anchor to a lower position. Placing the shoulder belt over the neck may result in neck injury during sudden braking or in a collision.
See also:
Maximum allowable speeds
The following table shows the maximum speeds that are possible with each different gear. The tachometer's needle will enter the red area if these speeds are exceeded. With the exception of cases wher ...
Manual transmission
WARNING ● Do not drive the vehicle with the clutch disengaged (i.e., when the clutch pedal is depressed) or with the shift lever in the neutral position. Engine braking has no effect in eit ...
Automatic/Emergency Locking Retractor (A/ELR)
Each passenger's seatbelt has an Automatic/ Emergency Locking Retractor (A/ ELR). The Automatic/Emergency Locking Retractor normally functions as an Emergency Locking Retractor (ELR). The A/ ELR h ...