Adjusting the front seat shoulder belt anchor height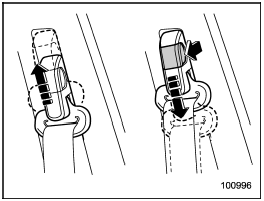 Adjusting the front seat shoulder belt anchor height
The shoulder belt anchor height should be adjusted to the position best suited for the driver/front passenger. Always adjust the anchor height so that the shoulder belt passes over the middle of the shoulder without touching the neck.
To raise:
Slide the anchor up.
To lower:
Pull the release knob and slide the anchor down.
Pull down on the anchor to make sure that it is locked in place.

When wearing the seatbelts, make sure the shoulder portion of the webbing does not pass over your neck. If it does, adjust the seatbelt anchor to a lower position. Placing the shoulder belt over the neck may result in neck injury during sudden braking or in a collision.
See also:
Using the cover
Using the cover To extend the cover, pull the end of the cover out of the housing, then insert its hooks into the catches as shown. To rewind it, unhook it from the catches and it will rewind automat ...
Driving with a trailer
● You should allow for considerably more stopping distance when towing a trailer. Avoid sudden braking because it may result in skidding or jackknifing and loss of control. ● Avoid ab ...
When "PUSH EJECT" is displayed
Press the eject button to unload the disc. Check the disc for damage or deformation, and also check that the correct disc is inserted. Do not try to unload the disc forcibly. Single CDs (i.e., 8 cm/3 ...