Reclining the seatback (if equipped)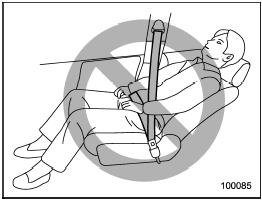 To prevent the passenger from sliding under the seatbelt in the event of a collision, always put the seatback in the upright position while the vehicle is in motion. Also, do not place objects such as cushions between the passenger and the seatback. If you do so, the risk of sliding under the lap belt and of the lap belt sliding up over the abdomen will increase, and both can result in serious internal injury or death.

If the vehicle is equipped with a cargo area cover, observe the following precautions.
- Be careful not to pinch your hand between the headrest and the cargo area cover when you recline the rear seat.
- Move the front cover of the cargo area cover backward so that the cover is not damaged by the reclined seatback. Refer to "Cargo area cover (dealer option)".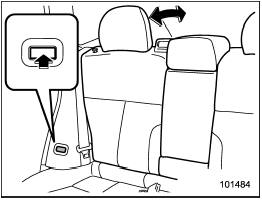 Push the switch and adjust the seatback to the desired position.
Then release the switch and make sure the seatback is securely locked into place.
See also:
iTunes® tagging
To tag the received song, press the button for more than 1.5 seconds. Connect the iPod® to store the tagged song to the iPod®. When the iPod® is connected to iTunes®, you can purchase the tag ...
Wheel balance
Each wheel was correctly balanced when your vehicle was new, but the wheels will become unbalanced as the tires become worn during use. Wheel imbalance causes the steering wheel to vibrate slightl ...
ABS system self-check
You may feel a slight shock in the brake pedal and hear the operating sound of ABS from the engine compartment just after the vehicle is started. This is caused by an automatic functional test of ...