Reclining the seatback (if equipped)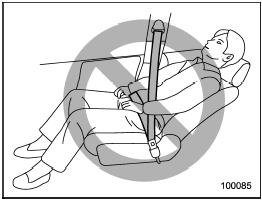 To prevent the passenger from sliding under the seatbelt in the event of a collision, always put the seatback in the upright position while the vehicle is in motion. Also, do not place objects such as cushions between the passenger and the seatback. If you do so, the risk of sliding under the lap belt and of the lap belt sliding up over the abdomen will increase, and both can result in serious internal injury or death.

If the vehicle is equipped with a cargo area cover, observe the following precautions.
- Be careful not to pinch your hand between the headrest and the cargo area cover when you recline the rear seat.
- Move the front cover of the cargo area cover backward so that the cover is not damaged by the reclined seatback. Refer to "Cargo area cover (dealer option)".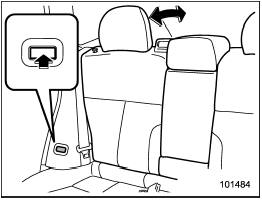 Push the switch and adjust the seatback to the desired position.
Then release the switch and make sure the seatback is securely locked into place.
See also:
Vehicle placard
The vehicle placard is affixed to the driver's side B-pillar. Example: The vehicle placard shows original tire size, recommended cold tire inflation pressure on each tire at maximum load ...
Tire Identification Number (TIN)
Tire Identification Number (TIN) is marked on the intended outboard sidewall. The TIN is composed of four groups. Here is a brief review of the TIN with a breakdown of its individual element ...
When checking or servicing in the engine compartment while the engine is running
WARNING A running engine can be dangerous. Keep your fingers, hands, clothing, hair and tools away from the cooling fan, belts and any other moving engine parts. Removing rings, watches and ties ...