Head restraint adjustment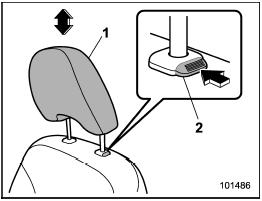 1) Head restraint
2) Release button
Both the driver's seat and the front passenger's seat are equipped with head restraints.
The head restraint should be adjusted so that the center of the head restraint is closest to the top of the occupant's ears.
To raise:
Pull the head restraint up.
To lower:
Push the head restraint down while pressing the release button on the top of the seatback.
To remove:
While pressing the release button, pull out the head restraint.
To install:
Install the head restraint into the holes that are located on the top of the seatback until the head restraint locks.

- Never drive the vehicle with the head restraints removed because they are designed to reduce the risk of serious neck injury in the event that the vehicle is struck from the rear. Therefore, when you remove the head restraints, you must reinstall all head restraints to protect vehicle occupants.
- All occupants, including the driver, should not operate a vehicle or sit in a vehicle's seat until the head restraints are placed in their proper positions in order to minimize the risk of neck injury in the event of a crash.
See also:
Fluids
NOTE Each quantity indicated here is only a guideline. The necessary quantity for replacement may differ slightly depending on the temperature and other factors. For the checking procedures or o ...
Security indicator light
The security indicator light deters potential thieves by indicating that the vehicle is equipped with an immobilizer system. It begins flashing approximately 60 seconds after the ignition switch ...
Headlight indicator light (if equipped)
This indicator light illuminates when the headlight switch is placed in the "" or "" position. ...