Reclining the seatback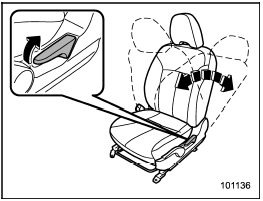 Reclining the seatback
Pull the reclining lever up and adjust the seatback to the desired position. Then release the lever and make sure the seatback is securely locked into place.
The seatback placed in a reclined position can spring back upward with force when the lever is pulled. While operating the lever to return the seatback, hold the seatback lightly so that it may be raised back gradually.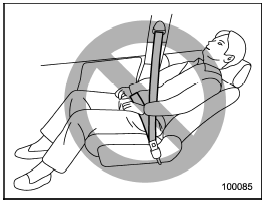 To prevent the passenger from sliding under the seatbelt in the event of a collision, always put the seatback in the upright position while the vehicle is in motion. Also, do not place objects such as cushions between the passenger and the seatback. If you do so, the risk of sliding under the lap belt and of the lap belt sliding up over the abdomen will increase, and both can result in serious internal injury or death.
See also:
Automatic/Emergency Locking Retractor (A/ELR)
Each passenger's seatbelt has an Automatic/ Emergency Locking Retractor (A/ ELR). The Automatic/Emergency Locking Retractor normally functions as an Emergency Locking Retractor (ELR). The A/ ELR h ...
Refueling
Only one person should be involved in refueling. Do not allow others to approach the area of the vehicle near the fuel filler pipe while refueling is in progress. Be sure to observe any other preca ...
Vehicle finder function
Use this function to find your vehicle parked among many vehicles in a large parking lot. Provided you are within 30 feet (10 meters) of the vehicle, pressing the "" button three times in a 5- ...