Exterior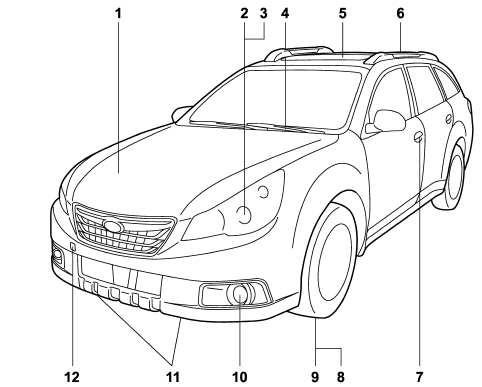 1) Engine hood lock release (page 11-7) 2) Headlight switch (page 3-28) 3) Bulb replacement (page 11-48) 4) Wiper switch (page 3-32) 5) Moonroof (page 2-28)
6) Roof rail (page 8-14) 7) Door locks (page 2-4) 8) Tire pressure (page 11-35) 9) Flat tires (page 9-6) 10) Fog light switch (page 3-30) 11) Tie-down hooks (page 9-13) 12) Towing hook (page 9-12)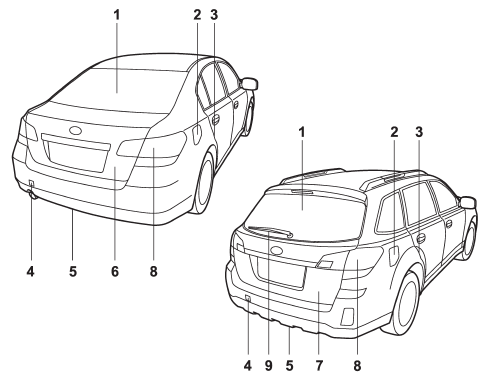 1) Rear window defogger button (page 3-34) 2) Fuel filler lid and cap (page 7-3) 3) Child safety locks (page 2-20) 4) Towing hook (page 9-12) 5) Tie-down hooks (page 9-13) 6) Trunk lid (page 2-24) 7) Rear gate (page 2-26) 8) Bulb replacement (page 11-52) 9) Rear wiper switch (page 3-34)
See also:
Front turn signal light
NOTE It may be difficult to replace the bulbs. We recommend that you have the bulbs replaced by your SUBARU dealer if necessary. 1. Turn over the protective cover of the engine compartment. 2 ...
Door interlock switch
1) Door interlock switch Although the map light switches are in the OFF position (manually off), the map lights can be set to illuminate automatically in conjunction with a door opening, etc. b ...
Remote start confirmation transmitter feature
Your remote engine start transmitter is equipped with a unique bidirectional confirmation feature. This feature will allow the transmitter's backlit button to display the status of the system unde ...