Exterior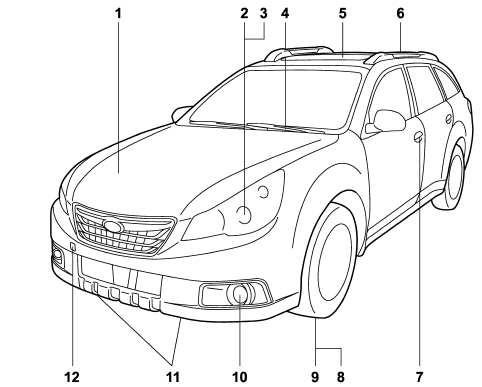 1) Engine hood lock release (page 11-7) 2) Headlight switch (page 3-28) 3) Bulb replacement (page 11-48) 4) Wiper switch (page 3-32) 5) Moonroof (page 2-28)
6) Roof rail (page 8-14) 7) Door locks (page 2-4) 8) Tire pressure (page 11-35) 9) Flat tires (page 9-6) 10) Fog light switch (page 3-30) 11) Tie-down hooks (page 9-13) 12) Towing hook (page 9-12)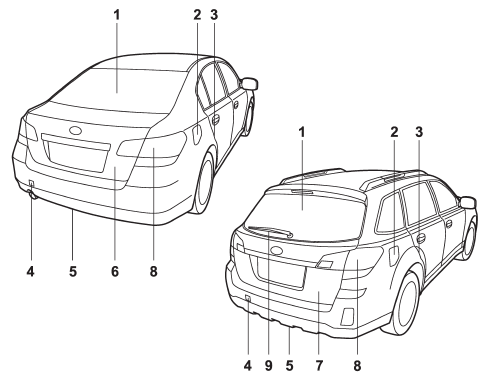 1) Rear window defogger button (page 3-34) 2) Fuel filler lid and cap (page 7-3) 3) Child safety locks (page 2-20) 4) Towing hook (page 9-12) 5) Tie-down hooks (page 9-13) 6) Trunk lid (page 2-24) 7) Rear gate (page 2-26) 8) Bulb replacement (page 11-52) 9) Rear wiper switch (page 3-34)
See also:
Turbo models
Turbo models 1) Power steering fluid reservoir 2) Differential gear oil level gauge (AT) 3) Clutch fluid reservoir 4) Automatic transmission fluid level gauge 5) Brake fluid reservoir 6) ...
Low tire pressure warning light (U.S.-spec. models)
When the ignition switch is turned to the "ON" position, the low tire pressure warning light will illuminate for approximately 2 seconds to check that the tire pressure monitoring system (TPMS) ...
Operation
1) Driver's side 2) Passenger's side The SRS airbag can function only when the ignition switch is in the "ON" position. The SUBARU advanced frontal airbag system is designed to determine the act ...