Exterior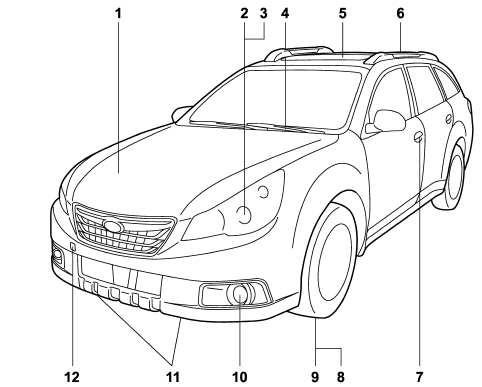 1) Engine hood lock release (page 11-7) 2) Headlight switch (page 3-28) 3) Bulb replacement (page 11-48) 4) Wiper switch (page 3-32) 5) Moonroof (page 2-28)
6) Roof rail (page 8-14) 7) Door locks (page 2-4) 8) Tire pressure (page 11-35) 9) Flat tires (page 9-6) 10) Fog light switch (page 3-30) 11) Tie-down hooks (page 9-13) 12) Towing hook (page 9-12)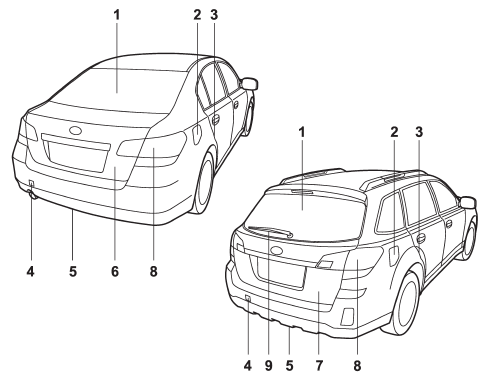 1) Rear window defogger button (page 3-34) 2) Fuel filler lid and cap (page 7-3) 3) Child safety locks (page 2-20) 4) Towing hook (page 9-12) 5) Tie-down hooks (page 9-13) 6) Trunk lid (page 2-24) 7) Rear gate (page 2-26) 8) Bulb replacement (page 11-52) 9) Rear wiper switch (page 3-34)
See also:
Using a flat-bed truck
This is the best way to transport your vehicle. Use the following procedures to ensure safe transportation. 1. Shift the select lever into the "P" position for automatic transmission models ...
Keys
1) Master key (Black) 2) Submaster key (Black) 3) Valet key (Gray) 4) Key number plate 5) Security ID plate Three types of keys are provided for your vehicle: Master key, submaster key and val ...
SPEED VOLUME setting
SPEED VOLUME CONTROL is a function that automatically adjusts the volume according to the vehicle speed. As the vehicle speed increases, the audio volume automatically increases to match the vehicle s ...