Windshield wiper blade rubber
1) Support
1. Grasp the locked end of the blade rubber assembly and pull it firmly until the stoppers on the rubber are free of the support.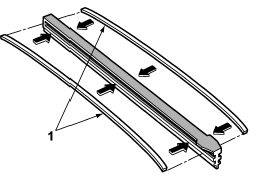 1) Metal spines
2. If the new blade rubber is not provided with two metal spines, remove the metal spines from the old blade rubber and install them in the new blade rubber.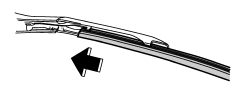 3. Align the claws of the support with the grooves in the rubber and slide the blade rubber assembly into the support until it locks.
1) Claw
2) Stopper
4. Be sure to position the claws at the end of the support between the stoppers on the rubber as shown. If the rubber is not retained properly, the wiper blade may scratch the windshield.
See also:
Cleaning the interior
Use a soft, damp cloth to clean the climate control panel, audio equipment, instrument panel, center console, combination meter panel, and switches. (Do not use organic solvents.) ...
Ejecting a CD from the player
Disc select buttons 1. Use the disc select button to select the disc to be ejected. 2. Briefly press the "" button. The selected disc will be ejected. The disc number indicator will flash at t ...
System monitors
A diagnostic system continually monitors the readiness of the seatbelt pretensioner while the vehicle is being driven. The seatbelt pretensioners share the control module with the SRS airbag system. ...