Windshield wiper blade rubber
1) Support
1. Grasp the locked end of the blade rubber assembly and pull it firmly until the stoppers on the rubber are free of the support.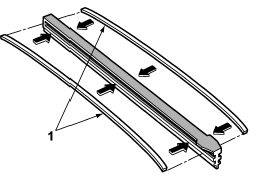 1) Metal spines
2. If the new blade rubber is not provided with two metal spines, remove the metal spines from the old blade rubber and install them in the new blade rubber.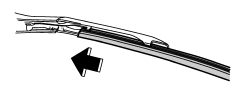 3. Align the claws of the support with the grooves in the rubber and slide the blade rubber assembly into the support until it locks.
1) Claw
2) Stopper
4. Be sure to position the claws at the end of the support between the stoppers on the rubber as shown. If the rubber is not retained properly, the wiper blade may scratch the windshield.
See also:
Roof rail (if equipped)
1) Roof rack Luggage can be carried on the roof after securing the roof rack to the roof rail. When installing the roof rack on the roof rail, follow the manufacturer's instructions. The ro ...
Rear window wiper and washer switch – 5-door
: Washer (accompanied by wiper operation) ON: Continuous INT: Intermittent OFF: Off : Washer ...
Other bulbs
It may be difficult to replace the bulbs. Have the bulbs replaced by your SUBARU dealer if necessary. ...