Windshield wiper blade rubber
1) Support
1. Grasp the locked end of the blade rubber assembly and pull it firmly until the stoppers on the rubber are free of the support.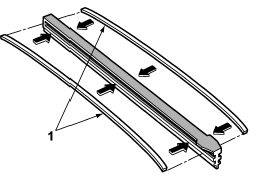 1) Metal spines
2. If the new blade rubber is not provided with two metal spines, remove the metal spines from the old blade rubber and install them in the new blade rubber.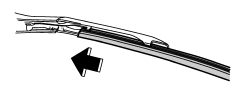 3. Align the claws of the support with the grooves in the rubber and slide the blade rubber assembly into the support until it locks.
1) Claw
2) Stopper
4. Be sure to position the claws at the end of the support between the stoppers on the rubber as shown. If the rubber is not retained properly, the wiper blade may scratch the windshield.
See also:
Changing the remote control batteries
- Do not let dust, oil or water get on or in the remote engine start transmitter when replacing the battery. - Be careful not to damage the printed circuit board in the remote engine st ...
Components
1) Front sub sensor (right-hand side) 2) Front sub sensor (left-hand side) 3) SRS airbag system warning light 4) Frontal airbag module (driver's side) 5) Front passenger's frontal airbag ON an ...
Installing a rearward facing child restraint
1. Place the child restraint system in the rear seating position. 2. Run the lap and shoulder belt through or around the child restraint system following the instructions provided by its ma ...