Windshield wiper blade rubber
1) Support
1. Grasp the locked end of the blade rubber assembly and pull it firmly until the stoppers on the rubber are free of the support.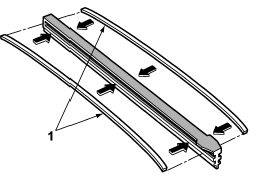 1) Metal spines
2. If the new blade rubber is not provided with two metal spines, remove the metal spines from the old blade rubber and install them in the new blade rubber.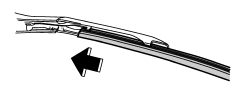 3. Align the claws of the support with the grooves in the rubber and slide the blade rubber assembly into the support until it locks.
1) Claw
2) Stopper
4. Be sure to position the claws at the end of the support between the stoppers on the rubber as shown. If the rubber is not retained properly, the wiper blade may scratch the windshield.
See also:
Cooling fan, hose and connections
Your vehicle employs an electric cooling fan which is thermostatically controlled to operate when the engine coolant reaches a specific temperature. If the radiator cooling fan does not operate eve ...
Reprogramming a single HomeLink® button
1. Press and hold the HomeLink® button you wish to reprogram. DO NOT release the button until step 4 has been completed. 2. When the HomeLink® indicator light begins to flash slowly (after approximat ...
Information display
Information display 1) Outside temperature indicator 2) Fuel consumption indicator With the ignition switch in the "ON" position, the outside temperature, current fuel consumption (if equipped) and ...