Windshield wiper blade rubber
1) Support
1. Grasp the locked end of the blade rubber assembly and pull it firmly until the stoppers on the rubber are free of the support.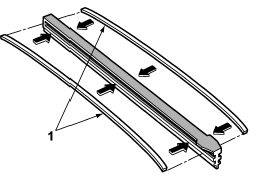 1) Metal spines
2. If the new blade rubber is not provided with two metal spines, remove the metal spines from the old blade rubber and install them in the new blade rubber.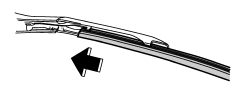 3. Align the claws of the support with the grooves in the rubber and slide the blade rubber assembly into the support until it locks.
1) Claw
2) Stopper
4. Be sure to position the claws at the end of the support between the stoppers on the rubber as shown. If the rubber is not retained properly, the wiper blade may scratch the windshield.
See also:
Map light
1. Remove the lens by prying the edge of the lens with a flat-head screwdriver. 2. Turn the bulb until the flat surfaces at its ends are aligned vertically. Pull the bulb straight downward to r ...
2.0-L DOHC engines on the 2.0X and 2.0XS
Fuel economy has been improved with the redesigned DOHC cylinder head, as well as through optimization of the compression ratio and reduction of the volume of the combustion chamber. Low-end and ...
System monitors
A diagnostic system continually monitors the readiness of the seatbelt pretensioner while the vehicle is being driven. The seatbelt pretensioners share the control module with the SRS airbag system. ...