Windshield wiper blade rubber
1) Support
1. Grasp the locked end of the blade rubber assembly and pull it firmly until the stoppers on the rubber are free of the support.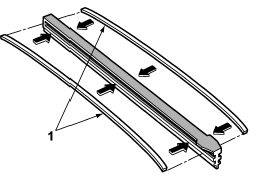 1) Metal spines
2. If the new blade rubber is not provided with two metal spines, remove the metal spines from the old blade rubber and install them in the new blade rubber.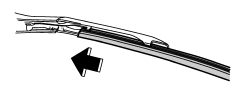 3. Align the claws of the support with the grooves in the rubber and slide the blade rubber assembly into the support until it locks.
1) Claw
2) Stopper
4. Be sure to position the claws at the end of the support between the stoppers on the rubber as shown. If the rubber is not retained properly, the wiper blade may scratch the windshield.
See also:
To enter the passive mode
If you wish to program the passive arming mode, have it done by your SUBARU dealer. ...
Current fuel consumption (if equipped)
Current fuel consumption (if equipped) This indication shows the rate of fuel consumption at the present moment. ...
Driving tips
Do not drive with your foot resting on the clutch pedal and do not use the clutch to hold your vehicle at a standstill on an upgrade. Either of those actions may cause clutch damage. Do not d ...