3.6 L models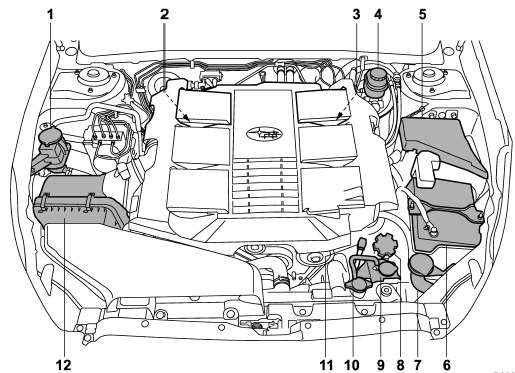 1) Power steering fluid reservoir (page 11-27) 2) Differential gear oil level gauge (page 11-26) 3) Automatic transmission fluid level gauge (page 11-24) 4) Brake fluid reservoir (page 11-28) 5) Fuse box (page 11-46) 6) Battery (page 11-45)
7) Windshield washer tank (page 11-40) 8) Engine oil filler cap (page 11-12) 9) Engine coolant reservoir (page 11-17) 10) Radiator cap (page 11-17) 11) Engine oil level gauge (page 11-12) 12) Air cleaner case (page 11-19)
See also:
CVT: A-OK
We at Cars.com haven't warmed to CVTs because of their typical hesitation and the droning they illicit from engines. Like most automatics, CVTs are at their worst when teamed with small engines, s ...
Maximum load rating
The load rating at the maximum permissible weight load for this tire. For example, "MAX. LOAD 580 kg (1279 LBS) @ 300 kPa (44 PSI) MAX. PRESS." Maximum load rating applies only to the tire, not ...
Power door locking switches
1) Lock 2) Unlock All doors and the rear gate (Outback) can be locked and unlocked by the power door locking switches located at the driver's side and the front passenger's side doors. To lock ...