Side mirrors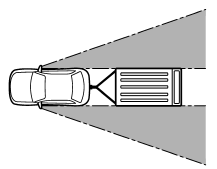 After hitching a trailer to your vehicle, check that the standard side mirrors provide a good rearward field of view without significant blind spots. If significant blind spots occur with the vehicle's standard side mirrors, use towing mirrors that conform with Federal, state/province and/ or other applicable regulations.
See also:
Maintenance tools
Your vehicle is equipped with the following maintenance tools: - Jack - Jack handle - Screwdriver - Towing hook (eye bolt) - Wheel nut wrench - Hex-head wrench (only models with moonroof ...
To install the cover housing
1. Shorten the bar. 2. Insert the projections located on the both ends of the sleeve into the recesses of the retainers. ...
Safety warnings
You will find a number of WARNINGs, CAUTIONs and NOTEs in this manual. These safety warnings alert you to potential hazards that could result in injury to you or others. Please read these safe ...