Side mirrors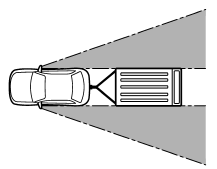 After hitching a trailer to your vehicle, check that the standard side mirrors provide a good rearward field of view without significant blind spots. If significant blind spots occur with the vehicle's standard side mirrors, use towing mirrors that conform with Federal, state/province and/ or other applicable regulations.
See also:
Fast-reversing
Press the "" button continuously to fastreverse the disc/folder. Release the button to stop fast-reversing. NOTE If you fast-reverse to the beginning of the first track/file, fast-reversin ...
Fuel octane rating
This octane rating is the average of the Research Octane and Motor Octane numbers and is commonly referred to as the Anti Knock Index (AKI). Using a gasoline with a lower octane rating can cause p ...
Calculating total and load capacities varying seating configurations
Calculate the available load capacity as shown in the following examples: Example 1A Vehicle capacity weight of the vehicle is 800 lbs (363 kg), which is indicated on the vehicle placard with th ...