Rear window wiper blade rubber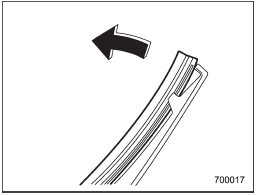 1. Pull out the end of the blade rubber assembly to unlock it from the plastic support.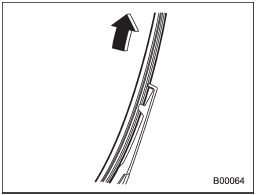 2. Pull the blade rubber assembly out of the plastic support.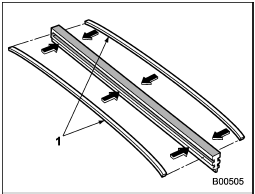 1) Metal spines
3. If the new blade rubber is not provided with two metal spines, remove the metal spines from the old blade rubber and install them in the new blade rubber.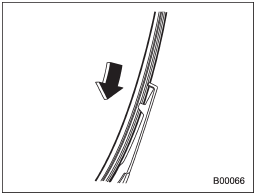 4. Align the claws of the plastic support with the grooves in the blade rubber assembly, then slide the blade rubber assembly into place.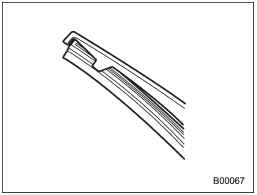 Securely retain both ends of the rubber with the stoppers on the plastic support ends. If the rubber is not retained properly, the wiper may scratch the rear window glass.
5. Install the wiper blade assembly to the wiper arm. Make sure that it locks in place.
6. Hold the wiper arm by hand and slowly lower it in position.
See also:
Hazard warning flasher
The hazard warning flasher is used to warn other drivers when you have to park your vehicle under emergency conditions. The hazard warning flasher works with the ignition switch in any position. ...
'Passive' safety advances that also benefit pedestrians
While a robust structure can form the foundation for a truly safe car, Subaru has also ensured that the Subaru Outback is comprehensively kitted out with a full range of both 'passive' and 'active ...
Unleaded gasoline
The neck of the fuel filler pipe is designed to accept only an unleaded gasoline filler nozzle. Under no circumstances should leaded gasoline be used because it will damage the emission control sy ...