Inserting a disc in a desired position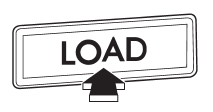 1. Briefly press the "LOAD" button. If the magazine in the player has an idle position where you can insert a disc, the disc number indicator associated with the idle position will blink.
The positions in the magazine the indicator of which steadily lights up are already loaded with discs.

Disc select buttons
2. Press the disc select button at the position where you want to insert a disc.
3. When the "LOAD" indicator illuminates, insert the disc. Once you have inserted the disc, the "LOAD" indicator will turn off. The disc will then be automatically drawn in, and the player will begin to play the first track on the disc.
● If you wish to insert another disc, repeat the procedure beginning with step 1.
● If you do not insert any disc in 15 seconds after you have pressed the "LOAD" button, the player will return to the original mode that was selected before the "LOAD" button was pressed.
● While the player is in the loading mode, if you press "FM", "AM" or "SAT" button, the player will enter standby mode. Press the "CD/AUX" button to start playback.
See also:
Charge warning light
If this light illuminates when the engine is running, it may indicate that the charging system is not working properly. If the light illuminates while driving or does not turn off after the engin ...
Child safety
• Never hold a child on your lap or in your arms while the vehicle is moving. The passenger cannot protect the child from injury in a collision, because the child will be caught between the passenge ...
2.0-L DOHC Turbo engine
A newly developed DOHC cylinder head is used in this engine. The intake port and the combustion chamber have been redesigned to reduce residual gasses, thus raising combustion efficiency. By usi ...