Inserting a disc in a desired position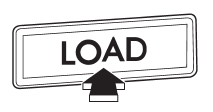 1. Briefly press the "LOAD" button. If the magazine in the player has an idle position where you can insert a disc, the disc number indicator associated with the idle position will blink.
The positions in the magazine the indicator of which steadily lights up are already loaded with discs.

Disc select buttons
2. Press the disc select button at the position where you want to insert a disc.
3. When the "LOAD" indicator illuminates, insert the disc. Once you have inserted the disc, the "LOAD" indicator will turn off. The disc will then be automatically drawn in, and the player will begin to play the first track on the disc.
● If you wish to insert another disc, repeat the procedure beginning with step 1.
● If you do not insert any disc in 15 seconds after you have pressed the "LOAD" button, the player will return to the original mode that was selected before the "LOAD" button was pressed.
● While the player is in the loading mode, if you press "FM", "AM" or "SAT" button, the player will enter standby mode. Press the "CD/AUX" button to start playback.
See also:
Exterior
Legacy sedans ride a 104.3-inch wheelbase and measure 184.4 inches long overall, versus a 187.4-inch length for wagons. The Legacy sedan is 55.7 inches tall, compared to a 58.3-inch height for an ...
Vehicle load limit – how to determine
The load capacity of your vehicle is determined by weight, not by available cargo space. The load limit of your vehicle is shown on the vehicle placard attached to the driver's side B-pillar. Loca ...
Recommended grade and viscosity
Each oil manufacturer has its own base oils and additives. Never use different brands together. For details, refer to "Manual transmission, front differential and rear differential gear oil". ...