Control panel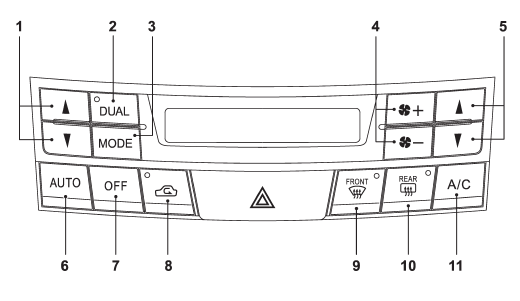 1) Temperature control button (driverТs side) 2) Dual mode button
3) Airflow mode selection button 4) Fan speed control button 5) Temperature control button (front passengerТs side) 6) AUTO button
7) OFF button
8) Air inlet selection button 9) Defroster button
10) Rear window defogger button (Refer to УDefogger and deicerФ F3-34.) 11) Air conditioner button
See also:
Warranties and maintenance
vehicle damage or malfunction caused by trailer towing. If you use your vehicle to tow a trailer, more frequent maintenance will be required due to the additional load. (Refer to УMaintenance sche ...
»нжектор - что такое, как работает
»нжектор - ќт јнглийского Ingections- впрыскивать. Ёто устройство предназначаетс€ дл€ подачи жидкости в какой-то объем. —амым простым примером может служить садовый распрыскиватель. јвтомобильный и ...
Acceleration, Ride & Handling
One engine is available in the Tribeca, and it's a solid one. The 3.6-liter, horizontally opposed six-cylinder makes 256 horsepower and offers punchy acceleration around town. Even the lightest ta ...