Control panel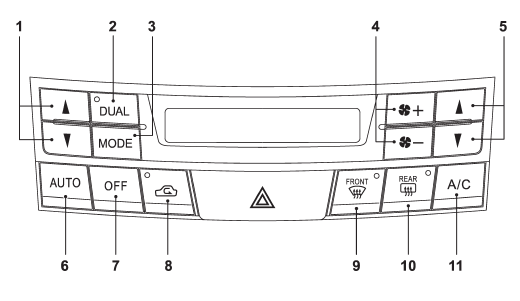 1) Temperature control button (driver's side) 2) Dual mode button
3) Airflow mode selection button 4) Fan speed control button 5) Temperature control button (front passenger's side) 6) AUTO button
7) OFF button
8) Air inlet selection button 9) Defroster button
10) Rear window defogger button (Refer to "Defogger and deicer" F3-34.) 11) Air conditioner button
See also:
Braking tips
Never rest your foot on the brake pedal while driving. This can cause dangerous overheating of the brakes and needless wear on the brake pads and linings. ...
DUAL mode
DUAL mode It is possible to make separate temperature settings for the driver's side and passenger's side (DUAL mode). To activate the DUAL mode: Press the "DUAL" button. When the DUAL mode ...
Power door locking switches
1) Lock 2) Unlock All doors and the rear gate (Outback) can be locked and unlocked by the power door locking switches located at the driver's side and the front passenger's side doors. To lock ...