Control panel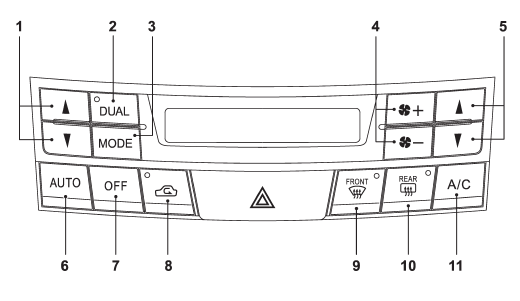 1) Temperature control button (driver's side) 2) Dual mode button
3) Airflow mode selection button 4) Fan speed control button 5) Temperature control button (front passenger's side) 6) AUTO button
7) OFF button
8) Air inlet selection button 9) Defroster button
10) Rear window defogger button (Refer to "Defogger and deicer" F3-34.) 11) Air conditioner button
See also:
Shock sensors (dealer option)
The shock sensors trigger the alarm system when they sense impacts applied to the vehicle and when any of their electric wires are cut. The alarm system causes the horn to sound and the turn ...
Oil pressure warning light
If this light illuminates when the engine is running, it may indicate that the engine oil pressure is low and the lubricating system is not working properly. If the light illuminates while driving ...
Windshield wiper blade rubber
1) Support 1. Grasp the locked end of the blade rubber assembly and pull it firmly until the stoppers on the rubber are free of the support. 1) Metal spines 2. If the new blade rubber is not ...