Defroster button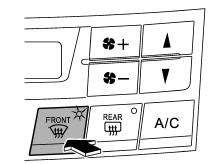 To defrost or dehumidify the windshield
and front door windows, press the defroster button У

Ф.
When the У

Ф button is pressed, the
air conditioner compressor automatically operates to quickly defog the windshield, outside air is drawn into the passenger compartment, airflow is directed towards the windshield and front door windows, and the indicator light on the button illuminates.
After eliminating the fogging from the windshield, return the climate control system to the FULL AUTO mode by pressing the УAUTOФ button or turn off by pressing the УOFFФ button.
Alternatively, press the У

Ф button
again to return the system to the setting that was selected before you activated the defroster.
See also:
Keys
1) Master key (Black) 2) Submaster key (Black) 3) Valet key (Gray) 4) Key number plate 5) Security ID plate Three types of keys are provided for your vehicle: Master key, submaster key and val ...
Center ventilators
Center ventilators Move the tab to adjust the flow direction. ...
Unleaded gasoline
The neck of the fuel filler pipe is designed to accept only an unleaded gasoline filler nozzle. Under no circumstances should leaded gasoline be used because it will damage the emission control sy ...