Compass zone adjustment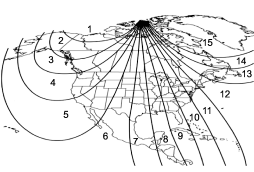 Compass calibration zones
1. Refer to the "Compass calibration zones" map shown above to verify that the compass zone setting is correct for your geographical location.
2. Press and hold the compass display button for 3 seconds until the zone selection comes up (a number will be displayed in the mirror compass window).
3. Press the compass display button repeatedly until the correct zone setting for your location is displayed.
4. Releasing the button for 5 seconds will exit the zone setting mode.
See also:
Safety symbol
You will find a circle with a slash through it in this manual. This symbol means"Do not", "Do not do this", or"Do not let this happen", depending upon the context. ...
Lubrication oil circulation in the refrigerant circuit
Operate the air conditioner compressor at a low engine speed (at idle or low driving speeds) a few minutes each month during the off-season to circulate its oil. ...
ABS warning light
- If any of the following conditions occur, we recommend that you have the ABS system repaired at the first available opportunity by your SUBARU dealer. – The warning light does not ...