Rear seatbelts (except rear center seatbelt on Outback)
1. Sit well back in the seat.
2. Pick up the tongue plate and pull the belt out slowly. Do not let it get twisted. If the belt stops before reaching the buckle, return the belt slightly and pull it out more slowly. If the belt still cannot be unlocked, let the belt retract slightly after giving a strong pull on it, then pull it out slowly again.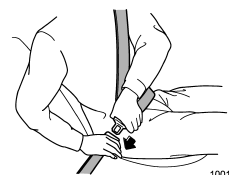 3. Insert the tongue plate into the buckle until you hear a click.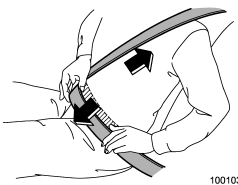 4. To make the lap part tight, pull up on the shoulder belt.
5. Place the lap belt as low as possible on your hips, not on your waist.
See also:
Initialization of power window
If the vehicle's battery is disconnected due to situations such as battery or fuse replacement, the following functions are deactivated. ● One-touch auto up/down function ● Anti-entrap ...
Checking the coolant level
Check the coolant level at each fuel stop. 1. Check the coolant level on the outside of the reservoir while the engine is cool. 2. If the level is close to or lower than the "LOW" level mark, ad ...
Tire size
Your vehicle comes equipped with P-Metric tire size. It is important to understand the sizing system in selecting the proper tire for your vehicles. Here is a brief review of the tire sizing system wi ...