Rear seatbelts (except rear center seatbelt on Outback)
1. Sit well back in the seat.
2. Pick up the tongue plate and pull the belt out slowly. Do not let it get twisted. If the belt stops before reaching the buckle, return the belt slightly and pull it out more slowly. If the belt still cannot be unlocked, let the belt retract slightly after giving a strong pull on it, then pull it out slowly again.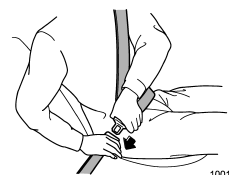 3. Insert the tongue plate into the buckle until you hear a click.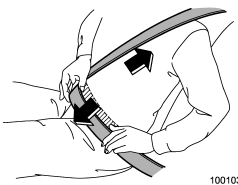 4. To make the lap part tight, pull up on the shoulder belt.
5. Place the lap belt as low as possible on your hips, not on your waist.
See also:
Driving tips
- On a road surface where there is a risk of wheelspin (for example, a snow- or gravel-covered road), you can pull away from a standstill (safely and easily) by first selecting the 2nd gear of ...
RUNNING GEAR
Following the strong tradition of the 'Subaru Dynamic Chassis Control Concept', engineers devised and developed the chassis and running gear for the Subaru Outback to feature many new and updated ...
XMTM satellite radio reception tips for antenna on the windshield (for U.S.A. only — if equipped)
For some models, the satellite radio antenna is fixed to the upper right hand corner of the windshield. The XMTM satellite radio receiver that is fitted to your vehicle receives the necessary ...