Rear seatbelts (except rear center seatbelt on Outback)
1. Sit well back in the seat.
2. Pick up the tongue plate and pull the belt out slowly. Do not let it get twisted. If the belt stops before reaching the buckle, return the belt slightly and pull it out more slowly. If the belt still cannot be unlocked, let the belt retract slightly after giving a strong pull on it, then pull it out slowly again.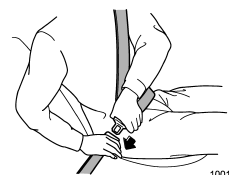 3. Insert the tongue plate into the buckle until you hear a click.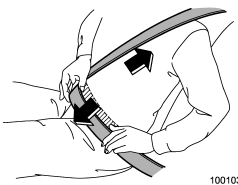 4. To make the lap part tight, pull up on the shoulder belt.
5. Place the lap belt as low as possible on your hips, not on your waist.
See also:
Summer tires
The factory-installed tires on your new 2.5 L turbo models are summer tires. Summer tires are high-speed capability tires best suited for highway driving under dry conditions. Summer tires are in ...
Catalytic converter
Turbo models Non-turbo models The catalytic converter is installed in the exhaust system. It serves as a catalyst to reduce HC, CO and NOx in exhaust gases, thus providing cleaner exhaust. To avoid ...
ABS warning light
The ABS warning light illuminates when the ignition switch is turned to the "ON" position and turns off after approximately 2 seconds. This is an indication that the ABS system is working properl ...