Sensor for the auto on/off headlights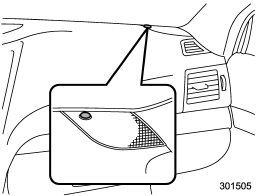 The sensor is on the instrument panel as shown in the illustration.
CAUTION
If any object is placed on or near the sensor, the sensor may not detect the level of the ambient light correctly and the auto on/off headlights may not operate properly.
See also:
Changing the batteries
CAUTION ● Do not let dust, oil or water get on or in the remote engine start transmitter when replacing the battery. ● Be careful not to damage the printed circuit board in the remote ...
AT OIL TEMP warning light (AT models)
If this light illuminates when the engine is running, it may indicate that the automatic transmission fluid temperature is too hot. If the light illuminates while driving, immediately stop ...
Door open warning light
When the ignition switch is in the "ON" position, the door open warning light illuminates for approximately 2 seconds and then turns off. The door open warning light illuminates if any door, the ...