Scan tuning (SCAN)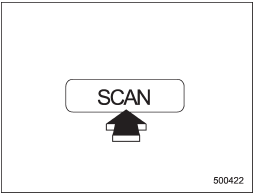 Type A and B audio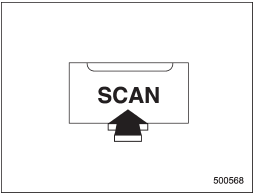 Type C audio
If you press the "SCAN" button, the radio will switch to the scan mode. In this mode, the radio scans through the radio band until a station is found. The radio will stop at the station for 5 seconds while displaying the frequency, after which scanning will continue until the entire band has been scanned.
Press the "SCAN" button again to cancel the SCAN mode and to stop at any displayed channel.
Automatic tuning may not function properly if the station reception is weakened by distance from the station or proximity to tall buildings and hills.
See also:
Front seatbelt pretensioners
The driver's and front passenger's seatbelts have a seatbelt pretensioner. The seatbelt pretensioners are designed to be activated in the event of an accident involving a moderate to severe fron ...
Replacement of brake pad and lining
The front disc brake and the rear disc brake have audible wear indicators on the brake pads. If the brake pads wear close to their service limit, the wear indicator makes a very audible scra ...
Random playback
Type A audio Type B audio To play back a track/file(s) at random, press the "RPT/RDM" button for 0.5 second or longer (type A audio) or press the "RDM" button (type B audio). ● For type ...