Choosing a child restraint system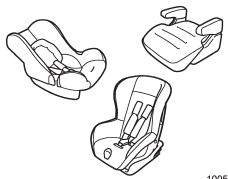 Choose a child restraint system that is appropriate for the child's age and size (weight and height) in order to provide the child with proper protection. The child restraint system should meet all applicable requirements of Federal Motor Vehicle Safety Standards for United States or Canada Motor Vehicle Safety Standards for Canada. It can be identified by looking for the label on the child restraint system or the manufacture's statement of compliance in the document attached to the system. Also it is important for you to make sure that the child restraint system is compatible with the vehicle in which it will be used.
See also:
ABS warning light
The ABS warning light illuminates when the ignition switch is turned to the "ON" position and turns off after approximately 2 seconds. This is an indication that the ABS system is working properl ...
Gasoline for cleaner air
Your use of gasoline with detergent additives will help prevent deposits from forming in your engine and fuel system. This helps keep your engine in tune and your emission control system working prop ...
Maximum permissible inflation pressure
The maximum cold inflation pressure to which this tire may be inflated. For example, "300 kPa (44 PSI) MAX. PRESS" ...