Front seatbelts
1. Adjust the seat position:
Driver's seat: Adjust the seatback to the upright position. Move the seat as far from the steering wheel as practical while still maintaining full vehicle control. Front passenger's seat: Adjust the seatback to the upright position. Move the seat as far back as possible.
2. Sit well back in the seat.
3. Pick up the tongue plate and pull the belt out slowly. Do not let it get twisted. If the belt stops before reaching the buckle, return the belt slightly and pull it out more slowly. If the belt still cannot be unlocked, let the belt retract slightly after giving it a strong pull, then pull it out slowly again.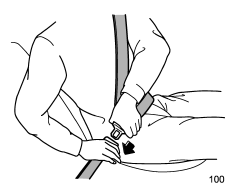 4. Insert the tongue plate into the buckle until you hear a click.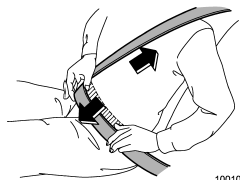 5. To make the lap part tight, pull up on the shoulder belt.
6. Place the lap belt as low as possible on your hips, not on your waist.
See also:
Head restraint adjustment
1) Head restraint 2) Release button Both the driver's seat and the front passenger's seat are equipped with head restraints. The head restraint should be adjusted so that the center of the head ...
LOCK
The key can only be inserted or removed in this position. The ignition switch will lock the steering wheel when you remove the key. If turning the key is difficult, turn the steering wheel slightly ...
To help prevent corrosion
Wash the vehicle regularly to prevent corrosion of the body and suspension components. Also, wash the vehicle promptly after driving on any of the following surfaces. • roads that have been salted to ...