Front seatbelts
1. Adjust the seat position:
Driver's seat: Adjust the seatback to the upright position. Move the seat as far from the steering wheel as practical while still maintaining full vehicle control. Front passenger's seat: Adjust the seatback to the upright position. Move the seat as far back as possible.
2. Sit well back in the seat.
3. Pick up the tongue plate and pull the belt out slowly. Do not let it get twisted. If the belt stops before reaching the buckle, return the belt slightly and pull it out more slowly. If the belt still cannot be unlocked, let the belt retract slightly after giving it a strong pull, then pull it out slowly again.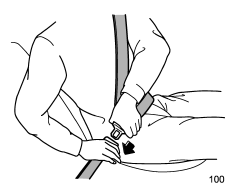 4. Insert the tongue plate into the buckle until you hear a click.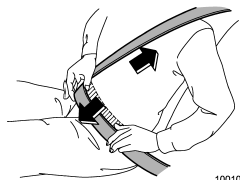 5. To make the lap part tight, pull up on the shoulder belt.
6. Place the lap belt as low as possible on your hips, not on your waist.
See also:
ABS (Anti-lock Brake System)
The ABS system prevents the lock-up of wheels which may occur during sudden braking or braking on slippery road surfaces. This helps prevent the loss of steering control and directional stabili ...
Cleaning aluminum wheels
● Promptly wipe the aluminum wheels clean of any kind of grime or agent. If dirt is left on too long, it may be difficult to clean off. ● Do not use soap containing grit to clean the wh ...
To increase the speed (by accelerator pedal)
1. Depress the accelerator pedal to accelerate the vehicle to the desired speed. 2. Push the "SET/COAST" button once. Now the desired speed is set and the vehicle will keep running at that spe ...