Combination meter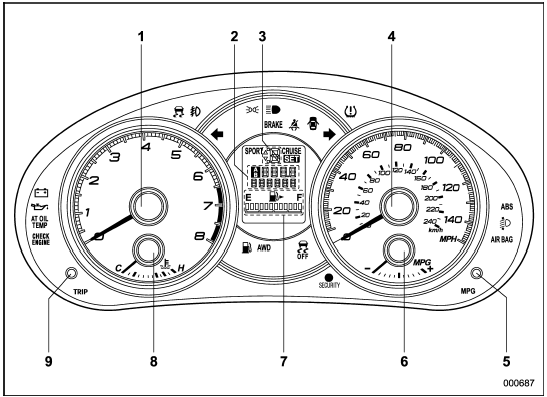 Type A
1) Tachometer
2) Trip meter and odometer
3) Select lever and gear position indicator
4) Speedometer
5) Information display switching knob
6) ECO gauge
7) Fuel gauge
8) Temperature gauge
9) Trip meter A/B selection and trip meter reset knob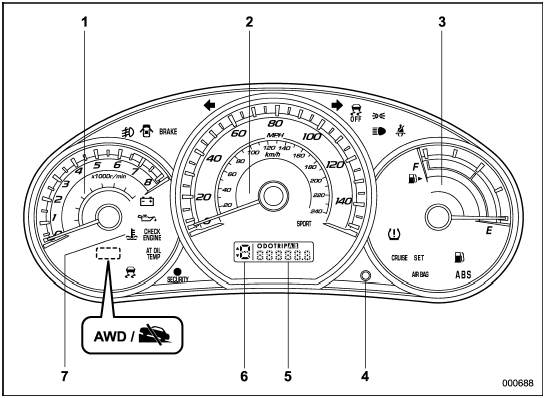 Type B (U.S.-spec. models)
1) Tachometer
2) Speedometer
3) Fuel gauge
4) Trip meter A/B selection and trip meter reset knob
5) Odometer/Trip meter
6) Select lever and gear position indicator (AT models)
7) Coolant temperature low indicator light/ Coolant temperature high warning light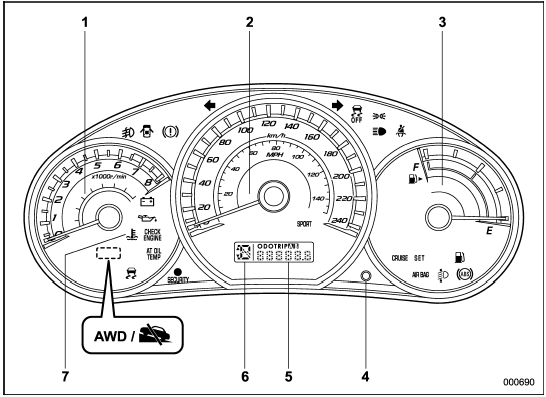 Type B (except U.S.-spec. models)
1) Tachometer
2) Speedometer
3) Fuel gauge
4) Trip meter A/B selection and trip meter reset knob
5) Odometer/Trip meter
6) Select lever and gear position indicator (AT models)
7) Coolant temperature low indicator light/Coolant temperature high warning light
See also:
Precautions against vehicle modification
Always consult your SUBARU dealer if you want to install any accessory parts to your vehicle. Do not perform any of the following modifications. Such modifications can interfere with prop ...
ABS warning light
The ABS warning light illuminates when the ignition switch is turned to the "ON" position and turns off after approximately 2 seconds. This is an indication that the ABS system is working properl ...
Battery
WARNING ● Before beginning work on or near any battery, be sure to extinguish all cigarettes, matches, and lighters. Never expose a battery to an open flame or electric sparks. Batteries gi ...