Canada-spec. models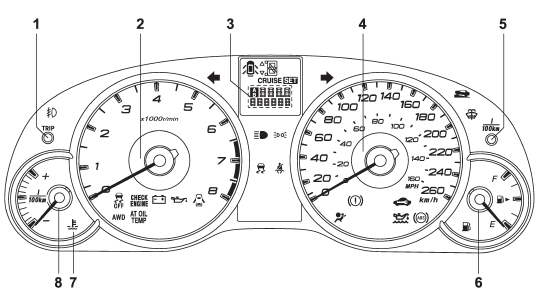 1) Trip meter A/B selection and trip meter reset knob (page 3-6) 2) Tachometer (page 3-7) 3) Trip meter and odometer (page 3-6) 4) Speedometer (page 3-6) 5) Multi function display switching knob (page 3-25) 6) Fuel gauge (page 3-7) 7) Coolant temperature warning/indicator light (page 3-13) 8) ECO gauge (page 3-8)
See also:
Tire pressure monitoring system (TPMS) (U.S.-spec. models)
Type A Type B The tire pressure monitoring system provides the driver with the warning message indicated by sending a signal from a sensor that is installed in each wheel when tire p ...
When "CHECK DISC" is displayed
Press the eject button to unload the discs. Check that the disc is not damaged or scratched, and also check that the disc is inserted correctly. This message may appear when using some CD-RW discs ...
Before driving your vehicle
Before entering the vehicle, remove any snow or ice from your shoes because that could make the pedals slippery and driving dangerous. While warming up the vehicle before driving, check that the ac ...