Wear indicators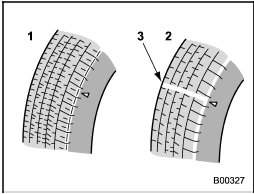 1) New tread
2) Worn tread
3) Tread wear indicator
Each tire incorporates a tread wear indicator, which becomes visible when the depth of the tread grooves decreases to 0.063 in (1.6 mm). A tire must be replaced when the tread wear indicator appears as a solid band across the tread.

When a tire's tread wear indicator becomes visible, the tire is worn beyond the acceptable limit and must be replaced immediately. With a tire in this condition, driving at high speeds in wet weather can cause the vehicle to hydroplane.
The resulting loss of vehicle control can lead to an accident.
NOTE
For safety, inspect tire tread regularly and replace the tires before their tread wear indicators become visible.
See also:
Interior
While the exterior's looks caused me some disappointment, the Outback's interior has sacrificed nothing. I had one of my favorite test drives in a 2006 Outback, so I was a bit worried that the new ...
Shock sensors (dealer option)
The shock sensors trigger the alarm system when they sense impacts applied to the vehicle and when any of their electric wires is cut. The alarm system causes the horn to sound and the turn signal ...
SRS airbag system monitors
Type A Type B A diagnostic system continually monitors the readiness of the SRS airbag system (including front seatbelt pretensioners) while the vehicle is being driven. The SRS airbag s ...