Checking the oil level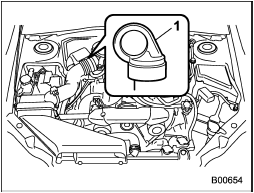 Non-turbo models
1) Yellow handle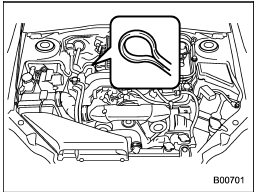 Turbo models except STI
Check the oil level monthly.
1. Park the vehicle on a level surface and stop the engine.
2. Pull out the level gauge, wipe it clean, and insert it again.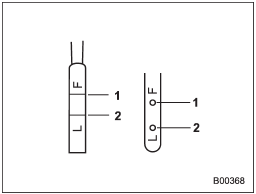 1) Upper level
2) Lower level
3. Pull out the level gauge again and check the oil level on it. If it is below the lower level, add oil through the level gauge hole to bring the level up to the upper level.

Be careful not to spill manual transmission oil when adding it. If oil touches the exhaust pipe, it may cause a bad smell, smoke, and/or a fire. If oil gets on the exhaust pipe, be sure to wipe it off.
NOTE
There is no transmission oil level gauge for STI. Consult your SUBARU dealer to check the oil level.
See also:
Exterior
1) Engine hood lock release (page 11-7) 2) Headlight switch (page 3-28) 3) Bulb replacement (page 11-48) 4) Wiper switch (page 3-32) 5) Moonroof (page 2-28) 6) Roof rail (page 8-14) 7) Door lo ...
Front passenger's frontal airbag ON and OFF indicators
The front passenger's frontal airbag ON and OFF indicators show you the status of the front passenger's SRS frontal airbag. The indicators are located next to the clock in the center portion o ...
Waxing and polishing
Always wash and dry the vehicle before waxing and polishing. Use a good quality polish and wax and apply them according to the manufacturer's instructions. Wax or polish when the painted surface is ...