Drive belts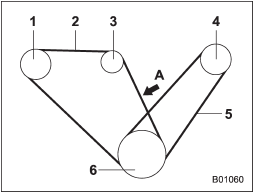 1) Power steering oil pump pulley
2) Front side belt
3) Alternator pulley
4) Air conditioner compressor pulley
5) Rear side belt
6) Crank pulley
A) 22 lbf (98 N, 10 kgf)

The front side belt, which runs in conjunction with the following components, must be used within the specified deflection.
Х Power steering oil pump pulley
Х Alternator pulley
Х Crank pulley
Check the deflection of the front side belt and if there is any looseness, cracks, wear or unusual noise on the front side belt, contact your SUBARU dealer.
Continuing to use the vehicle with the belt outside of the specification may cause the engine to malfunction and the above components to malfunction.
To check the deflection of the front side belt, place a straightedge (ruler) across two adjacent pulleys (alternator pulley and crank pulley) and apply a force of 22 lbf (98 N, 10 kgf) midway between the pulleys by using a spring scale. The belt deflection should be the amount specified. If the front side belt is loose, cracked or worn, contact your SUBARU dealer.

The rear side belt is a stretch-type belt, therefore the deflection does not need to be checked. If there are cracks or wear confirmed on the belts and a squeaking noise is heard from them, contact your SUBARU dealer.
See also:
Uniform tire quality grading standards
This information indicates the relative performance of passenger car tires in the area of treadwear, traction, and temperature resistance. This is to aid the consumer in making an informed choice ...
Vanity mirror
Keep the vanity mirror cover closed while the car is being driven to avoid being temporarily blinded by the glare of bright light. Vanity mirror To use the vanity mirror, swing down th ...
Door interlock switch
1) Door interlock switch Although the map light switches are in the OFF position (manually off), the map lights can be set to illuminate automatically in conjunction with a door opening, etc. b ...