Catalytic converter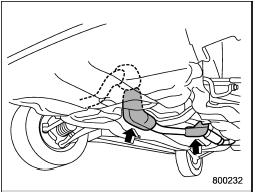 Turbo models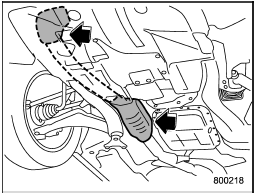 Non-turbo models
The catalytic converter is installed in the exhaust system. It serves as a catalyst to reduce HC, CO and NOx in exhaust gases, thus providing cleaner exhaust.
To avoid damage to the catalytic converter:
Х Use only unleaded fuel. Even a small amount of leaded fuel will damage the catalytic converter.
Х Never start the engine by pushing or pulling the vehicle.
Х Avoid racing the engine.
Х Never turn off the ignition switch while the vehicle is moving.
Х Keep your engine tuned-up. If you feel the engine running rough (misfiring, backfiring or incomplete combustion), have your vehicle checked and repaired by an authorized SUBARU dealer.
Х Do not apply undercoating or rust prevention treatment to the heat shield of catalytic converter and the exhaust system.
Х Do not drive with an extremely low fuel level.

Х Avoid fire hazards. Do not drive or park the vehicle anywhere near flammable materials (e.g., grass, paper, rags or leaves), because the catalytic converter operates at very high temperatures.
Х Keep everyone and flammable materials away from the exhaust pipe while the engine is running.
The exhaust gas is very hot.
See also:
Driving with pets
Unrestrained pets can interfere with your driving and distract your attention from driving. In a collision or sudden stop, unrestrained pets or cages can be thrown around inside the vehicle an ...
Operating the passengersТ windows
To open: Press the appropriate switch down and hold it until the window reaches the desired position. To close: Pull the switch up and hold it until the window reaches the desired position. ...
Passenger compartment area
1) Lower anchorages for child restraint system (page 1-33) 2) Seatbelt (page 1-12) 3) Center console (page 6-6) 4) Front seat (page 1-2) 5) Rear seat (page 1-7) 1) Top tether anchorages (page ...