Type B seat heater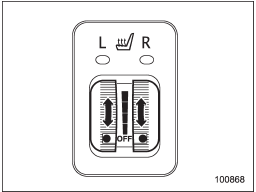 Type B seat heater
Each seat heater has four levels of adjustment. To use the heater in the right-hand seat, turn the "R" adjustment dial forward until the "

" mark reaches the desired position. To activate the heater in the left-hand seat, turn the "L" adjustment dial forward until the "

" mark reaches the desired position. Each heater warms the seat most quickly with the "

" mark on the adjustment dial in the furthest-forward position. An indicator light next to the adjustment dial for each seat heater illuminates when that seat heater is activated.
When the vehicle's interior is warmed enough or before you leave the vehicle, always turn the adjustment dial to the most rearward position so that the "

" mark reaches to the "OFF" position.
See also:
Adjustable level of each mode
*Only when an AUX audio product is connected. ...
Remote start confirmation transmitter feature
Your remote engine start transmitter is equipped with a unique bidirectional confirmation feature. This feature will allow the transmitter's backlit button to display the status of the system unde ...
Abbreviation list
You will find several abbreviations in this manual. The meanings of the abbreviations are shown in the following list. ...