Under the cargo area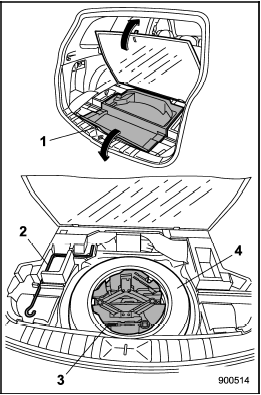 1) Under-floor storage compartment (if equipped) (Refer to "Under-floor storage compartment")
2) Jack handle
3) Tool bucket
4) Spare tire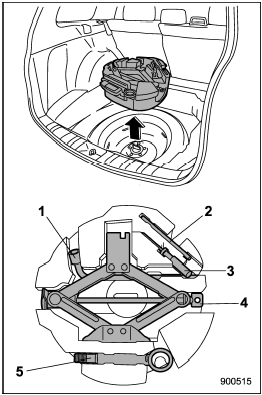 1) Wheel nut wrench
2) Hex-head wrench (only models with moonroof)
3) Screwdriver
4) Jack
5) Towing hook (eye bolt)
The jack handle is stored under the cargo floor. The jack and towing hook are stored in the tool bucket that is located in the recess of the spare tire wheel.
Also, the tools in the tool bag can be stored in the tool bucket as illustrated.
For how to use the jack, refer to "Flat tires".
See also:
Temporary spare tire
When a spare tire is mounted or a wheel rim is replaced without the original pressure sensor/transmitter being transferred, the low tire pressure warning light will illuminate steadily after blink ...
Compass zone adjustment
Compass calibration zones 1. Refer to the "Compass calibration zones" map shown above to verify that the compass zone setting is correct for your geographical location. 2. Press and hold ...
Head restraint adjustment
1) Head restraint 2) Release button Both the driver's seat and the front passenger's seat are equipped with head restraints. The head restraint should be adjusted so that the center of the head ...