Manual transmission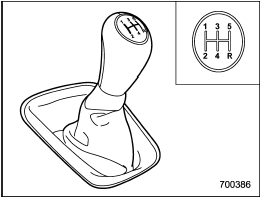 Manual transmission
The manual transmission is a fully synchromeshed, 5-forward-speed and 1-reverse- speed transmission.
The shift pattern is shown on the shift lever knob. When shifting from 5th gear to reverse gear, first return the shift lever to the neutral position then shift into reverse gear.
To change gears, fully depress the clutch pedal, move the shift lever, and gradually let up on the clutch pedal.
If it is difficult to shift into gear, put the transmission in neutral, release the clutch pedal momentarily, and then try again.

- Do not drive the vehicle with the clutch disengaged (i.e., when the clutch pedal is depressed) or with the shift lever in the neutral position. Engine braking has no effect in either of these conditions and the risk of an accident is consequently increased.
- Do not engage the clutch (i.e., release the clutch pedal) suddenly when starting the vehicle.
By doing so the vehicle might unexpectedly accelerate or the transmission could malfunction.

Shift into reverse ONLY when the vehicle has completely stopped. It may cause damage to the transmission to try shifting into reverse when the vehicle is moving.
See also:
Driving on grades
● Before going down a steep hill, slow down and shift into lower gear (if necessary, use 1st gear) in order to utilize the overheating of your vehicle's brakes. Do not make sudden downshifts ...
Jump starting
- Battery fluid is SULFURIC ACID. Do not let it come in contact with the eyes, skin, clothing or the vehicle. If battery fluid gets on you, thoroughly flush the exposed area with water i ...
Uniform tire quality grading standards
This information indicates the relative performance of passenger car tires in the area of treadwear, traction, and temperature resistance. This is to aid the consumer in making an informed choice ...