Windshield wiper blade rubber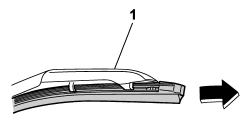 1) Support
1. Grasp the locked end of the blade rubber assembly and pull it firmly until the stoppers on the rubber are free of the support.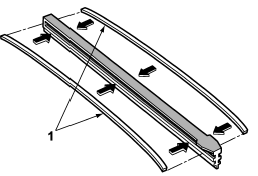 1) Metal spines
2. If the new blade rubber is not provided with two metal spines, remove the metal spines from the old blade rubber and install them in the new blade rubber.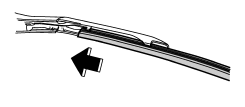 3. Align the claws of the support with the grooves in the rubber and slide the blade rubber assembly into the support until it locks.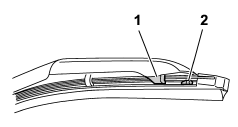 1) Claw
2) Stopper
4. Be sure to position the claws at the end of the support between the stoppers on the rubber as shown. If the rubber is not retained properly, the wiper blade may scratch the windshield.
See also:
Legacy
1) Under-floor storage compartment (Refer to "Under-floor storage compartment" F6-18.) 2) Electronic parking brake release tool 3) Jack handle 4) Spare tire 5) Tool bucket 1) Wheel nut wren ...
Media format
Bluetooth audio devices cannot be connected if they are not compatible with the following Bluetooth® profiles. - A2DP (Advanced Audio Distribution Profile) - AVRCP (Audio/Video Remote Control ...
Warranties for U.S.A.
All SUBARU vehicles distributed by Subaru of America, Inc. and sold at retail by an authorized SUBARU dealer in the United States come with the following warranties: ● SUBARU Limited Warranty ...