Windshield wiper blade rubber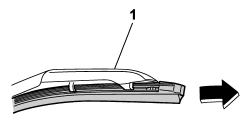 1) Support
1. Grasp the locked end of the blade rubber assembly and pull it firmly until the stoppers on the rubber are free of the support.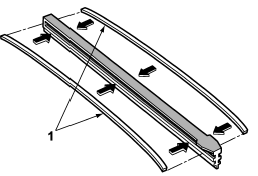 1) Metal spines
2. If the new blade rubber is not provided with two metal spines, remove the metal spines from the old blade rubber and install them in the new blade rubber.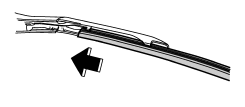 3. Align the claws of the support with the grooves in the rubber and slide the blade rubber assembly into the support until it locks.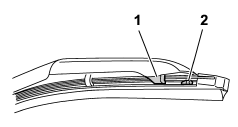 1) Claw
2) Stopper
4. Be sure to position the claws at the end of the support between the stoppers on the rubber as shown. If the rubber is not retained properly, the wiper blade may scratch the windshield.
See also:
FM/AM radio operation
Press the "FM" or "AM" button when the radio is off to turn on the radio. ...
Air inlet selection button
Air inlet selection button Select airflow by pressing the air inlet selection button. The selected air inlet setting is shown on the control panel. (Recirculation): Interior air recirculat ...
To select a track/index from its beginning
Select a track/index in the same way that a track is selected when a CD is played. For details, refer to "To select a track from its beginning". ...