Tire rotation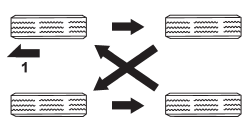 Vehicles equipped with 4 non-unidirectional tires
1) Front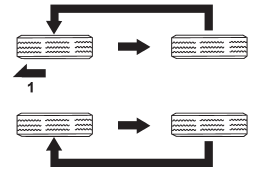 Vehicles equipped with unidirectional tires
1) Front
Tire wear varies from wheel to wheel. To maximize the life of each tire and ensure that the tires wear uniformly, it is best to rotate the tires every 7,500 miles (12,000 km). Move the tires to the positions shown in the applicable illustration each time they are rotated.
Replace any damaged or unevenly worn tire at the time of rotation. After tire rotation, adjust the tire pressures and make sure the wheel nuts are correctly tightened.
After driving approximately 600 miles (1,000 km), check the wheel nuts again and retighten any nut that has become loose.
See also:
Connectable USB storage device
Mass storage class USB memory can be connected. USB storage devices that can be played back are accompanied by the following restrictions. Х Maximum directory layers: 8 layers (including the ROOT) Х ...
Using the select lever
Shift to the next-higher gear by briefly pushing the select lever toward the У+Ф end of the manual gate. Shift to the next-lower gear by briefly pulling the select lever toward the У−Ф end of ...
To open the moonroof
Pull the switch to the УOPENФ side and quickly release it to open the moonroof. The sun shade will also be opened together with the moonroof. The moonroof will stop at a position 20 in (50 cm) ...