Checking the oil level
AT models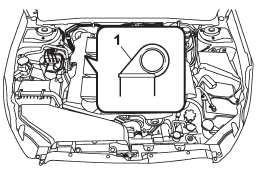 1) Yellow handle
1. Park the vehicle on a level surface and stop the engine.
2. Pull out the level gauge, wipe it clean, and insert it again.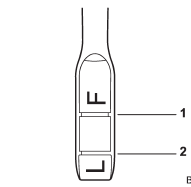 1) Upper level
2) Lower level
3. Pull out the level gauge again and check the oil level on it. If it is below the lower level, add oil to bring the level up to the upper level.
CAUTION
Be careful not to spill front differential gear oil when adding it. If oil touches the exhaust pipe, it may cause a bad smell, smoke, and/or a fire. If oil gets on the exhaust pipe, be sure to wipe it off.
See also:
If the light illuminates steadily
If the light illuminates steadily while driving or does not turn off after the engine starts, an emission control system malfunction has been detected. You should have your vehicle checked by an auth ...
Waxing and polishing
Always wash and dry the vehicle before waxing and polishing. Use a good quality polish and wax and apply them according to the manufacturer's instructions. Wax or polish when the painted surf ...
Tether anchorage location
Outback Three tether anchorages, i.e., ones for the right, center and left positions, are already installed on the rear edge of the roof. Open the cover flap to use each anchorage. ...