Checking the oil level
AT models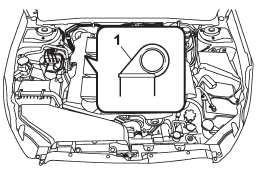 1) Yellow handle
1. Park the vehicle on a level surface and stop the engine.
2. Pull out the level gauge, wipe it clean, and insert it again.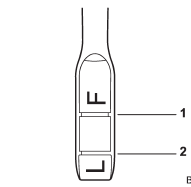 1) Upper level
2) Lower level
3. Pull out the level gauge again and check the oil level on it. If it is below the lower level, add oil to bring the level up to the upper level.
CAUTION
Be careful not to spill front differential gear oil when adding it. If oil touches the exhaust pipe, it may cause a bad smell, smoke, and/or a fire. If oil gets on the exhaust pipe, be sure to wipe it off.
See also:
2.0-L DOHC engines on the 2.0X and 2.0XS
Fuel economy has been improved with the redesigned DOHC cylinder head, as well as through optimization of the compression ratio and reduction of the volume of the combustion chamber. Low-end and ...
ON
This is the normal operating position after the engine is started. ...
2011 Subaru Impreza WRX STi review By Scott Burgess
We all play favorites. Is that why we have elections? Or is it just for the commercials? In the automotive world, car buyers play favorites as well — weighing the pros and cons of differ ...